SCHOOL RATES
We know price is important when arranging a school trip, so our schools pricing is heavily discounted for all school visits to ensure you get the best value for money.
The Blackpool Tower Dungeon can offer teachers the following school visit benefits:
Education rates from £4 per pupil (saving over 70%)
1 Teacher free per 10 students*
£7 additional adults/teachers
2020/2021 SCHOOL RATES
Ticket

Type

September 2020 - December 2020*
January 2021 - May 2021*
June 2021 - July 2021*

Primary Pupil (Admission per pupil)

£4

£4
£4.50
Primary Pupil (Admission + Education Session per pupil)
£6
£6
£6.50
Secondary/College Student (Admission per student)
£5
£5
£6
Secondary/College Student (Admission + Education Session per student)
£7
£7
£8
1 Free Teacher per 10 Students booked
FREE
FREE
FREE
Additional Adult/Teacher
£7
£7
£7
*Please note these exclusive school rates are only available during our off-peak periods and excludes the following dates:
19th October - 2nd November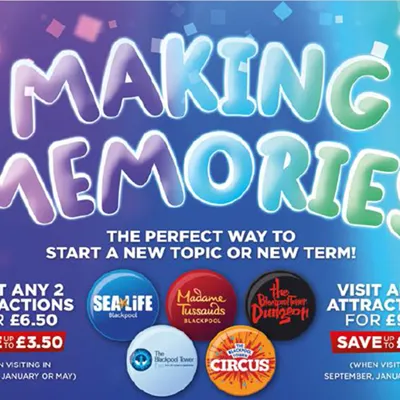 SPECIAL OFFERS
We now offer special discounted rates for school visits in January, May or September. 
Please visit us on Facebook for the most up-to-date information and special teacher perks.
To discuss or book your trip with the Making Memories offer, please email schoolsblackpool@merlinentertainments.biz