A Toast to Halloween
Tuesday September 27th 2022
Helen Roughley
Halloween, Blackpool, New Show, Moorhouse's Brewery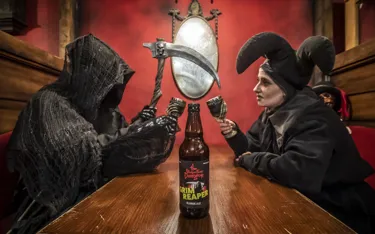 We've launched our first limited-edition beer to mark the launch of our brand-new Halloween show, Reaper's Retribution, which launches 1 October and runs throughout Halloween, until 6 November 2022.
We've collaborated with Burnley-based Moorhouse's Brewery, an independent brewer renowned for its quality award-winning ales, brewed in the shadow of Pendle Hill, to create the limited-edition beer, Grim Reaper.
A limited run of 100 bottles of Grim Reaper, a 4.4% ABV blonde ale, have been produced and will be given away randomly as spot prizes to visitors (aged 18 and over) who see the show. There's also chances to win on our social channels so keep your eye on our Facebook and Instagram pages throughout October!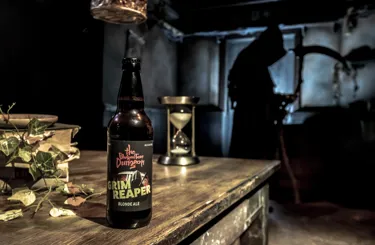 The Grim Reaper Blonde Ale is a tribute to our star of Halloween! 
For a limited time, Halloween has attracted a new creature to our dwelling, the GRIM REAPER!
Summoned by those who wished to cheat death. The word on the rat-infested streets is that YOU assisted them! Do you dare to defy the angel of death? Prepare to come face to face with your fate - prepare for the limited time show - REAPER'S RETRIBUTION.
See more show information here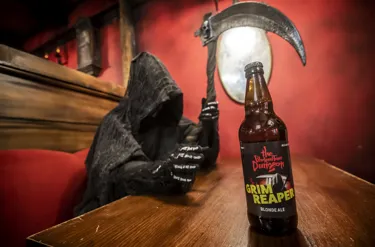 Aaron Edgar, Senior Attractions Manager at The Blackpool Tower Dungeon, said: "The Blackpool Tower Dungeon is the home of Halloween and we wanted to do something different to celebrate it and mark the launch of our new show – Reaper's Retribution. We're excited to launch our first and limited-edition Grim Reaper beer, a toast to the show's terrifying lead character.
"This wouldn't have been possible without Moorhouse's Brewery, who were the perfect brand to collaborate with. The North West based brewer is well-known for its mythical beers which include Pendle Witches Brew and Pride of Pendle – very fitting considering The Blackpool Tower Dungeon's popular Pendle Witches show and focus on telling the stories of Lancashire's dark history!
"Just like the show, there is a limited-run of 100 bottles of Grim Reaper which will be given away to those brave souls who are unlucky enough to secure a ticket!"
Lee Williams Managing Director, Moorhouse's Brewery said: "Our own story is so entwined with the spooky, quirky darkness of Pendle Hill that we didn't dare turn this chance down, especially as it's for the Reaper's Retribution! It's actually a lovely golden beer which is in stark contrast to what sounds like lies ahead for these 100 lucky/unlucky visitors!"