HALLOWEEN
Scream at the Home of Halloween!
1st October - 6th November
The Blackpool Tower Dungeon is the 'Home of Halloween' this spook-tacular season.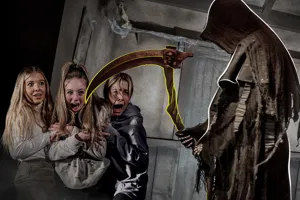 What to expect...
- Halloween fun!
- An adventure bursting with giggles, ghouls and grisly tales as visitors learn more about Lancashire's murky history in an entertaining way
- A 90-minute live-action experience blending fun and laughter with some scares
- Featuring a limited time addition to the show tour - REAPER'S RETRIBUTION
BOOK NOW
PREPARE FOR REAPER'S RETRIBUTION
Halloween has attracted a new creature to our dwelling, the GRIM REAPER!
Summoned by those who wished to cheat death.
The word on the rat-infested streets is that YOU assisted them! Do you dare to defy the angel of death?
 Prepare to come face to face with your fate - prepare for the REAPER'S RETRIBUTION.   
What you'll learn:
Who was Edward Kelley, and what was his GRIM research all about?
What happened to his ears?
The secret of how to cheat death…well, maybe. Worth a try.
Reaper's Retribution is one show as part of the full Dungeon's shows on the full tour. This Halloween event is all included with standard ticket bookings for 1st October to 5th November 2023.
BOOK NOW