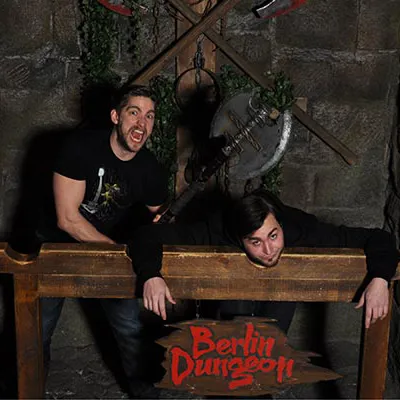 As part of your amazingly Scary Fun Berlin Dungeon experience and your journey through Berlin's dark history you have the opportunity to get photographed inside creepy settings.
In the end of your trip through our exciting shows you can buy a hilarious photo at our Photo Counter and savour the memory of your visit, much like Carl Großmann's sausages.
So get involved when you arrive, use your imagination, strike a pose and our photography wizards will take care of the rest. You can get all sorts of spectacular swag including keyrings and photos. Check out these brilliant samples; photogenic lot aren't they? We'll soon sort that out... *
*Please note that we do not allow personal photography during the Berlin Dungeon show. Flashes hurt our sensitive-underground-dwelling eyes and are distracting. And why would you want to distract from our amazing performances? Besides, we'll take better photos of you anyway.