7 October - 5 November
Tickets from £21.00 (Included with Dungeon admission)
Recommended 8 years [Under 5s not permitted entry]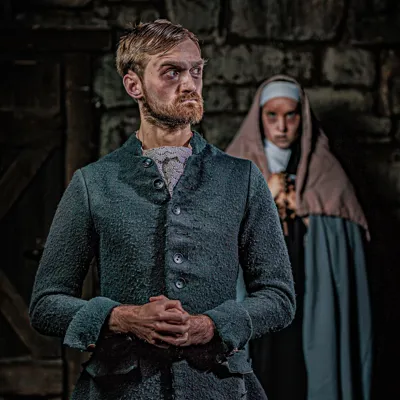 Face the Grey Lady this Halloween, if you dare!
Join us at The York Dungeon as we set the scene for one of York's most dark and infamous historical tales.
Set in York Theatre Royal, built in 1744 on the site of the medieval St Leonard's Hospital, you will learn of the forbidden love of demure young nun Florence and her nobleman patient.
After being discovered by the enraged Mother Superior, Florence was imprisoned, walled up in a windowless room; the nun's eternal tomb.
Her body was found after years of searching but her spirit remains amongst the walls of the Theatre, known as The Grey Lady. It is said that on the opening night of a new show, she will appear.
Face The Grey Lady this Halloween, if you dare! 
Standard Ticket
Book in advance from
£21
Per adult
Entry to the York Dungeon, with entrance at a chosen 15-minute time slot
Reschedule for free up to 24 hours before your arrival time

Is the attraction suitable for children?

We recommend The York Dungeon for children aged 8 and above, however, entry is at the discretion of the parent/guardian.*

It does get very dark inside and there are lots of loud noises. Please be aware if you need to leave the attraction during a tour, unfortunately, your ticket/s will be non-refundable.

*Children under 5 years old will not be permitted to enter
Entry to the York Dungeon, with entrance at any time on the day of your choice
Flexibility to visit when you want on the day, ideal for when you're not sure on plans

Is the attraction suitable for children?

We recommend The York Dungeon for children aged 8 and above, however, entry is at the discretion of the parent/guardian.*

It does get very dark inside and there are lots of loud noises. Please be aware if you need to leave the attraction during a tour, unfortunately, your ticket/s will be non-refundable.

*Children under 5 years old will not be permitted to enter