Halloween
TRICK & TREAT WALKING TOUR
Join the Jester & Smedley for a spooky Walking Tour of York this October
9th and 16th October. 23rd - 31st October.
4 Tours (12pm, 1:30pm, 3pm & 4.30pm)
£9.75 per adult, £7.75 per child, Under 3's go free!
Recommended for all ages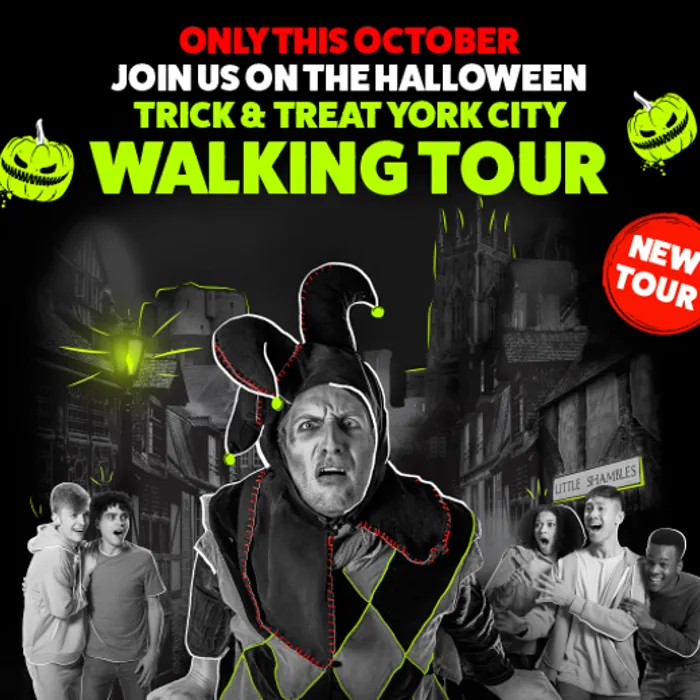 Discover the spooky side of York...
...as two of favourite dungeon residents, the ever so bonkers and slightly sarcastic Black Jester along with our most ugliest & smelliest peasant Smedley, are released onto the streets of the city to lead you on a journey to discover York's HAUNTED history and GHOSTLY secrets of the city.
This Halloween Trick & Treat Walking Tour will be full of surprises and will horrify & delight all the family.
All of you pesky peasants will visit well-known landmarks whilst learning about the history of York. This city has surprises lurking round every corner and the Black Jester and Smedley will bring the shadows of the dungeons to the streets making Halloween 2021 the spookiest season yet. 
Tours will depart from outside The York Dungeon, see timings below:
Saturday 9th, and 16th October – 4 tours (12:00, 1:30pm, 3pm & 4:30pm)
Saturday 23rd to Sunday 31st October – 4 tours (12:00, 1:30pm, 3pm & 4:30pm)
All tickets must be pre-booked in advance. Also, we demand.. we mean request that all peasants arrive promptly at the York Dungeon for their tour or else the Black Jester and Smedley WILL leave you behind!
FAQs
The tour lasts 60 minutes in total. 
Tickets are £9.75 per adult, £7.75 for children (Under 3's are free). 

This Halloween TRICK AND TREAT Walking Tour is recommended for all ages, just make sure the little ones don't mind the walk!
We don't blame you Peasant...that's one way to really give yourself a SCARE this Halloween! 
These are two separate packages so if you fancy a visit to the York Dungeon this Halloween (Will YOU survive the HEX of the Witch?) then please book those tickets separately on the date and time of your choosing!
You get wet. Bring an umbrella, and an extra one for us too, if it's scheduled to rain. 
Well if you're trying to impress the Jester or Smedley, your finest attire with your most expensive fragrance... but we doubt anyone will attempt that. So just something comfortable with appropriate footwear. 
The York Dungeon of course, be on time - or else you'll get left behind! 
The Tour ends at the York Minster (one of the finest spots of York!) however if you do want to return to the dark & murky Dungeon then you can always accompany our characters on their return.
Every peasant is welcome, even the little ones - but the walk does last 60 minutes so be sure they can handle it. 
Tickets will be on sale from Friday 1st October! 
"What a fabulous walking tour!!! We toured York with the Black Jester and Smedley as a treat for my daughter's birthday. Absolutely brilliant!!!"