York Dungeon City Walking Tour
Tours running (or walking…) Friday's, Saturday's & Sunday's from 12pm onwards…
Who let the creeps out?
Get ready to learn about the grisly and downright murky history of York's shady past as you join us on one of our hour long brand new (and soon to be infamous) family-friendly York Dungeon Walking Tours.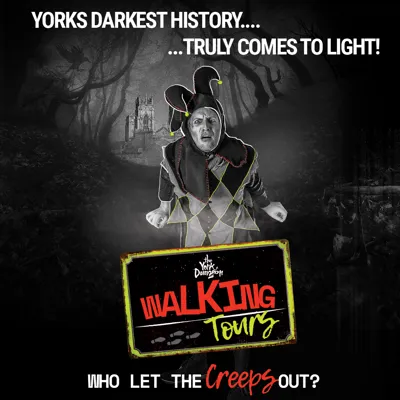 Discover the toe-curling tales of the city...
As two of favourite dungeon residents, the ever so bonkers and slightly sarcastic Black Jester along with our most ugliest & smelliest peasant Smedley, are released onto the streets of the city to lead you on a journey to discover York's true history and hidden secrets of the city.
Listen as our gruesome twosome regale you with tales of tragedy, horror, hangings and ghosts as you explore York's most historically spectacular sights including Clifford's Tower, York Minster and The Shambles, just to name a few.
Learn about York's most infamous rogues and heavenly saints including Dick Turpin, Guy Fawkes and the Pearl of York herself- Margaret Clitheroe- as you laugh, creep and jump around the winding streets of the city… it's all that good stuff we couldn't pack into the depths of the Dungeons!
If Vikings and Romans are your thing then worry not peasants as you'll be immersed in stories of Roman exploits and Viking invasions! We love a good story of death and carnage, don't you?
With plenty to see, lots to learn and a barrel load of laughs to be had along the way, our city walking tours are fun for all the family so book your tour before they sell out...we dare you!
The York Dungeon Walking Tours are fully Covid-19 secure, with social-distancing, limited tour sizes and face-masks to be worn by our Actors at all times.
All tickets must be pre-booked in advance and we demand.. we mean request that all peasants arrive promptly at the York Dungeon for their tour or else the Black Jester and Smedley WILL leave you behind!
Walking Tour
Online from
£7.50
Per adult
Visit some of York's most (in)famous landmarks with our notorious characters
Expect stories, suspense & surprises around every corner
Great value family friendly fun in York, perfect for kids too scared for The Dungeon