LEARNING OUTCOMES
In History KS3 (AGE 12-14):
To identify significant events in York's darkest history
To explore crime and punishment in Britain between Saxon times and Victorian times, through live, immersive storytelling, told by mischievous characters.
Meet and learn about the personal stories of Guy Fawkes, Dick Turpin and many other characters during your journey through history. 
To make sensory connections between the darkest periods in history, engaging with historical concepts like 'change' and 'continuity'.
To analyse a range of gruesome historical sources.
To create a passion for history that inspires young learners.
In English and Drama KS3/4 (AGE 12-16):
To explore stories based on actual historic events.
To identify the features and impact of immersive storytelling.
To experience a range of dramatic techniques and performance elements that bring history to life.
To create a passion for drama that inspires young learners.
KS2 (AGE 10-11)
Pupils should develop a chronologically secure knowledge and understanding of British, local & world history 
They should note connections, contrasts and trends over history
Beyond the Curriculum:
Experiencing culture, the arts and heritage
Teamwork and communication skills
Improving personal wellbeing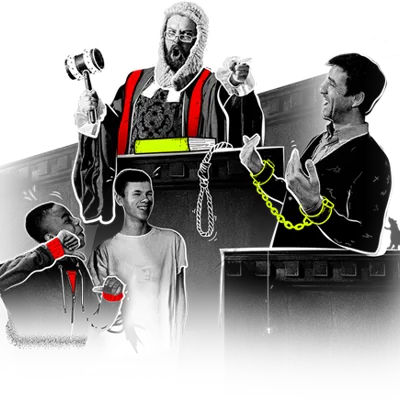 Here's what you and your class can expect:
Immersive sets with gripping, historic story-telling, bringing history to life in a fun (and sometimes a bit scary) way
10 interactive live shows, live actors, 2000 years of York's history
State-of-the-art theming and special effects for each time period
60 minutes of laughs and screams
Souvenir photo opportunity
The Dungeon is intended for older KS2 (years 5 & 6) and KS3 – this is a unique and fun way of bringing learning in the classroom to life. Curriculum linked subjects include Performing Arts, History & English.
The shows are based on the real history of York (minus the boring bits). You'll get up close and personal to York's more sinister characters including Guy Fawkes, the Vikings and Dick Turpin.
Classroom content at the click of a button