Yorkshire's Most Famous Witch Comes To York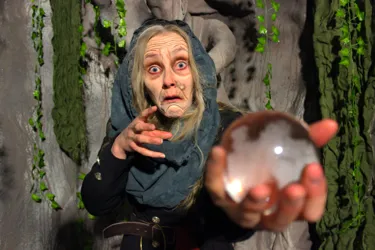 Mother Shipton was an infamous prophetess and witch, who is said to have foretold scarily accurate prophecies, including the Great Fire of London, the invention of the internet and even the end of the world.
Now, her story is being retold at The York Dungeon, in a new show dedicated to her residence in Knaresborough; Old Mother Shipton's Cave. But visitors will be in for a surprise, as the show takes a new approach to her story.
As Displays Manager, Anna Carline, comments: "Most of our shows take place during the life and times of famous Yorkshire characters, like Guy Fawkes or Dick Turpin. But this is the first time our show takes place years after their death."
Visitors will instead visit Mother Shipton's Cave as it would have looked in the Victorian age, as England's oldest visitor attraction. The team at The York Dungeon have recreated the cave in Knaresborough and they are hoping it isn't just the scenery that's convincing.
"We like to think that there is a lot of truth to Mother Shipton's power," continues Anna "and those who step foot into our version of her famous cave, might just come face-to-face with those powers themselves."
As well as being known for her prophecies, the rumour was that Shipton could turn things to stone, also known as "petrifying". We now know that this "ability" was simply down to the mineral rich waters that ran through her cave, leading to a build-up of stone sediment on any objects they passed over.
The research team at the York Dungeon have been working closely with the staff at Mother Shipton's Cave, in Knaresborough, to gain a valuable insight into Mother Shipton and their visitor attraction through lectures, visits and sharing experiences, and  visitors to Mother Shipton's Cave will receive 40% off admission at The York Dungeon until July 1st.
The mysterious powers of Mother Shipton will be out in full force in York from Saturday 12th May, along with 10 other live shows at The York Dungeon.
Mother Shipton is the 2nd show from Yorkshire Rogues & Legends, The York Dungeon's yearlong campaign, bringing the stories of famous Yorkshire characters back into the limelight; it follows from their first show, Cartimandua.