All you need to know about the London Dungeon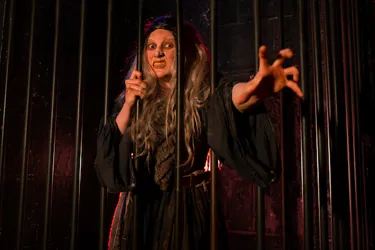 Learn about the London Dungeon history, facts and what to expect from your visit in our comprehensive guide.
1. What is the London Dungeon?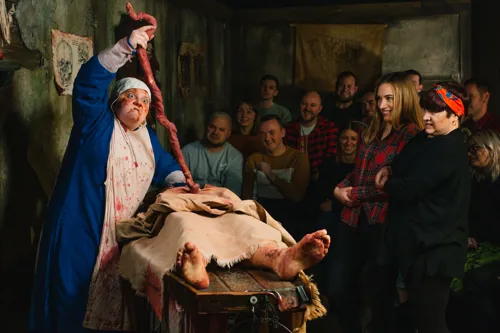 The London Dungeon is a uniquely thrilling attraction that will whisk you way back to the capital's most perilous past. See, hear, feel and smell the chilling amusing characters of the 'bad old days' as they come to life before you.
Explore London's dark history as you make your way through a 90-minute immersive experience made up of 16 live shows, two rides and a Victorian Tavern at the end!
Book Now
2. History of the London Dungeon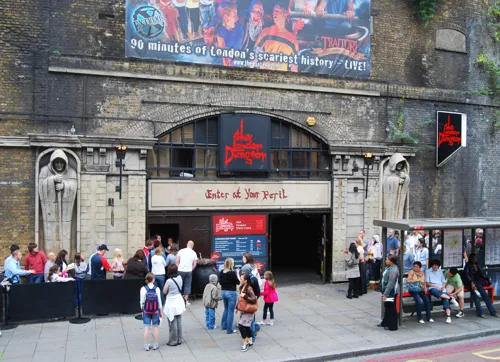 First opened in 1974 at the London Dungeon's old location, this experience was initially a free-flow walkthrough attraction at Tooley Street. Thrilling shows like the Great Fire of London and Jack the Ripper were added in the 1980s and 90s. The attraction continued to undergo developments with the addition of the boat ride and a new show called Judgement Day added.
Eventually the London dungeon was re-designed into an actor-led live tour rather than a free flowing walk-through experience. More actor-led London Dungeon shows were added in the 2000s including The Labyrinth Mirror Maze and The Great Plague. By 2008, the Ten Bells pub was added to the Jack the Ripper show along with a show called Surgery Blood, involving high levels of audience participation, blood, and gore. 
The London Dungeon finally moved to Southbank in 2013 and is currently located at County Hall alongside other family friendly fun Merlin attractions including SEA LIFE London Aquarium, the London Eye and Shrek's Adventure! London. Across the river Thames from the iconic Big Ben and the Houses of Parliament!
View all shows here.
3. Who are the performers at London Dungeon?
Whether you're interested in delving into the horrible history of London's gruesome past or some London Dungeon interesting facts - we have you covered.
What is the London Dungeon? During your experience through this actor-led immersive experience - you'll encounter a number of characters including Sweeney Todd, the Torturer, Mrs Lovett, Jack the Ripper and many more. 
In the Dungeon there are more than 20 actors working at any one time.
For an inclusive look into what it's like to be an actor at the London Dungeon - see below.
Working as an actor at the London Dungeon: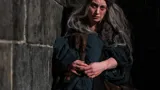 4. Does the London Dungeon use special effects?
Yes, the London dungeon shows use special effects, top theatrical actors and amazing stage design to transport you to your favourite historical events. 
These special effects include but are not limited to; mechanical sounds, voice overs, air cannons and crow sound effects to name a few.
For a more in-depth explanation, visit our Sensory Guide
5. London Dungeon: Every attraction you'll visit 
The London Dungeon is comprised of 16 gruesome, horribly hysterical shows - we have put together a list of a few that you can expect to see and what to expect at the London Dungeon! 
Experience the full force of Henry VIII's wrath in an altogether dark and scary experience on the Tyrant Boat Ride.
The Jester has condemned you to death for conspiring with Anne Boleyn! You traitors will join her on her final journey along the Thames to The Tower of London, where you'll meet your fate. You may lose your head - or get wet! Definitely one of those two! 
        For information on ride restrictions please see here.
It's 1621 and witch trials are really heating up. 
You'll enter the bowels of Newgate Prison and witness Elizabeth Sawyer, The Witch of Edmonton, awaiting her execution. She has already confessed and been convicted of conversing with the Devil with her own neighbours turning on her after the sudden illness and death of someone seen arguing with Sawyer only the week before. Coincidence? You're betting your life on it.
Welcome to the Ten Bells Pub, come in from the storm. Have a pint (don't mind if we do) and settle those nerves. However, this is no ordinary pub, this is the Ten Bells where Jack the Ripper's victims once drank.
Let Waldren, owner of the 10 Bells, tell you the ultimate ghost story on a stormy night. Who was Jack the Ripper and will he strike again?
Only time will tell. Drink up now, before the lanterns go out!
With your heart still pumping from your time in the Dungeon, collapse into a well-cushioned chair in our vibrant, decadent and dodgy Victorian pub of 1896.
Enjoy one of your favourite beers, a delectable gin and tonic or perhaps a themed cocktail. 
Please note, The Tavern is located at the end of the Dungeon tour and is only available for those who have dared face the dark underbelly of London's history.
BRAND NEW SHOW THIS SUMMER - ROTTEN ROYALS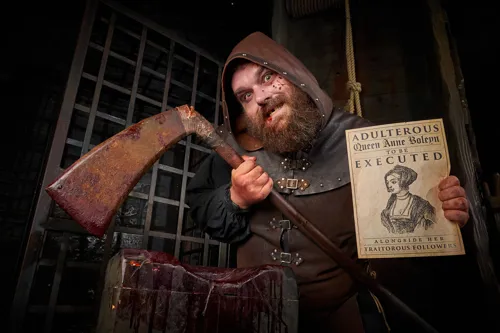 Last but definitely not least, your trip to the London Dungeon will now feature our brand-new show Rotten Royals.
In 2023, royal history is on show, this summer, see the side they don't want you to know.

Come forward traitors! You've been found guilty of conspiring against King Henry VIII. Not to mention, one of your bunch has been diddlin' with Queen Anne Boleyn...

Unlucky for you, you've been captured and arrested by the King's guard, now it's time to face the Royal executioner! But he's not the brightest tool in the toolkit... that's what happens when you chop so many HEADS OFF for a livin'! It looks like he'll need your help sorting out these royal traitors...

You may even get some royally rotten souvin-EARS!
Book Now
6. Is the London Dungeon Educational?
When considering visiting the London Dungeon, it is important to remember, not only is the London Dungeon great for entertainment, but it is also educational. 
The London Dungeon is an award-winning educational venue, with awards from the Council for Learning Outside the Classroom (CLOtc) and Learning Outside the Classroom (LOtC) which guarantee teachers that we offer educational value.
Secondary school teachers looking to book an educational visit will discover: 
For more information, see here.
7. London Dungeon fun facts 
The list of cool London Dungeon facts is endless – so we can put together a few for you to enjoy.
It took a team of over 300 hundred people to bring to life the new London Dungeon including
more than 100 builders from 43 different trades, designers, engineers, script writers, theatre directors, costume designers and make up artists.
The stunningly realistic cadaver in the Surgeon's operating theatre cost £10,000 to make and each hair is individually inserted.
There are 593 tiny metal spikes in the torture chair in the torture chamber and the resident torturer has more than 70 torture implements at his disposal.
In 2011 one of the skeletons at the original London Dungeon was discovered to be genuine human remains, believed to have been on display since the attraction first opened in 1975
13 replica skulls are featured throughout the attraction, along with a healthy smattering of full skeletons and severed limbs
8. What you need to know before you visit and where to learn more
How long does it take to walk through the London Dungeon?
The London dungeon shows take approximately 75-90 minutes to complete.
How do I get to the London Dungeon?  
There are various ways to get to the London Dungeon including:
Tube - the closest tube station to the London Dungeon is Waterloo station. Here you can access the Bakerloo, Northern, Waterloo and City and Jubilee lines. Please follow the signs for the London Eye when exiting the station.
Bus - The following Transport for London Bus stops are located near the London Dungeon - 211, 77, 381, RV1. You can also access the London Dungeon as a stop on the Bus Big Sightseeing route. 
Train - the nearest train station to the London Dungeon is Waterloo Station. 
Car - there is no car park available for the London Dungeon. Q-Park Westminster car park is a short distance from the London Dungeon. A 15% discount is available for those who pre-book their parking. Visit here, to receive your discount and enter the promotional code DUNGEON when making your booking.
For more information see here.
9. Frequently asked questions
What is the London Dungeon? Is the London Dungeon worth it? Read on to see what you can expect from your gruesome experience.
Booking:
Book online in advance to guarantee the best price for your ticket
Reschedule for free up to 1 hour prior to arrival
Manage your booking via our booking portal
The London Dungeon offers standard tickets, anytime entry tickets, and a number of other packages including multi-attraction tickets which offer big savings and a cool ticket which includes a premium cocktail of your choice in the Tavern.
The London Dungeon also has a Guy Fawkes' themed escape room at £120 per person. The Escape Room does not include the Dungeon Tour. The Escape Room experience is ideal for 2-6 players per room, lasting around 60-minutes. The more people you add, the more you save per person!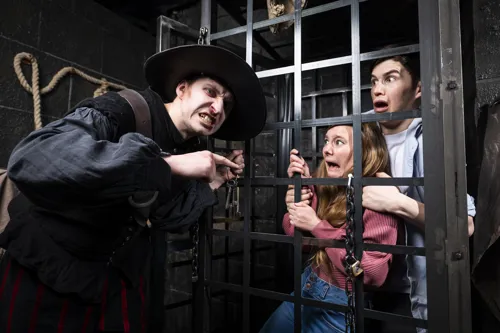 Escape Now
Parking:
Unfortunately the London Dungeon does not have a car park - but are able to accommodate coaches for drop-off and pick up (20 mins max). To reserve your coach bay, please contact the LastMinute.com London Eye Energy Customer Service line:  coach@londoneye.com
The closets car park to the London Dungeon is Q-Park Westminster car park. The London Dungeon is able to offer a discount of 15% to individuals who pre-book their parking.
Visit to www.q-park.co.uk/parking/london/q-park-westminster receive your discount. Click on pre-booking and enter the promotional code DUNGEON when making your booking.
For more information on directions & parking please visit here.
Is the London Dungeon suitable for all ages:
The recommended minimum age to visit the London Dungeon is 12 years old. However, children over the age of 5 are allowed into the attraction at the adults discretion. Please note, children under 5 are not permitted into the London Dungeon.
It is important to note that the London Dungeon shows take place in a dark environment that contain loud noises which some children may not enjoy. Tickets are purchased on a non-refundable and non-transferable basis as per our terms and conditions, please be sure before purchasing your tickets.
Feeling hungry? Family friendly restaurants nearby:
For a more extensive list of family friendly restaurants near the London Dungeon - click here