Guarantee entry and save online
Reschedule for free up to 24 hours prior to arrival
Manage your booking via our booking portal
Guarantee entry and save online
Reschedule for free up to 24 hours prior to arrival
Manage your booking via our booking portal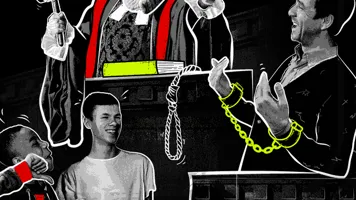 Take a look around our venue
You can host fully themed cocktail parties, Christmas parties, VIP Tours and more!
Even beyond our official opening hours we offer exclusive hire and tailor made packages just for you.
Situated next to the London Eye and the SEA LIFE London Aquarium, only 5 minutes walk from Waterloo station, we have created an amazing event venue for the most unusual and exciting parties you can host in London!
Why host a private or corporate event at the London Dungeon?
You'll experience a private, immersive, live London Dungeon show which includes 1 ride, and around 10 live action shows.
Lighting, audio, visual, catering, and on the night event management are all included in your per person quote price.
The London Dungeon can hold up to 120 guests for parties and networking events
We guarantee your friends and colleagues will be talking about this memorable event space for years to come!
Not only will you experience the scary fun of the London Dungeon, you can host welcome drinks prior to your live show in our Gin Palace and food by our award winning caterers followed by a live DJ!
MORE INFO ON...