Guarantee entry and by booking online
Reschedule for free up to 24 hours prior to arrival
Manage your booking via our booking portal
Guarantee entry and by booking online
Reschedule for free up to 24 hours prior to arrival
Manage your booking via our booking portal
How does it work?
Select your preferred ticket below
On the next page, you'll be asked to confirm your chosen attractions and select your date & time
You have 90 days to visit the remaining attraction(s) at your own leisure
You can reschedule your tickets for free up to 24 hours prior to arrival if your plans change*
Please note that during peak periods, your entry to the other attraction(s) may not be available on the same day as your first visit. We advise booking your time slots as early as possible if you expect to combine your visits into one day
Alternatively, choose your own combination below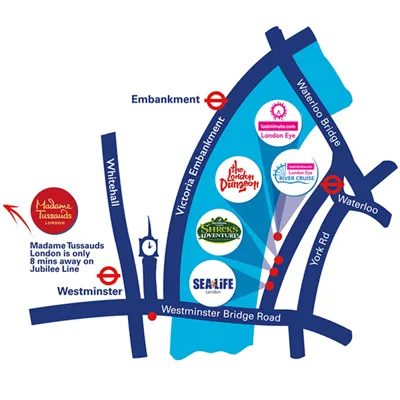 How to find us?
The London Dungeon is located on the Southbank next to SEA LIFE London Aquarium and the London Eye, and Madame Tussauds is only a short 8 minute tube journey away
There's also plenty of places to eat and drink nearby, whether you're looking for a quick bite or a sit-down meal. 
Booking with confidence guarantee
*Multi-attraction tickets are valid for 90 days from the date of your first attraction visit. You can move the ticket up to 5 times within the 90 days.
Find out more about the guarantee