The London Dungeon Sensory Guide
The London Dungeon is a highly sensory experience with dark spaces, loud noises, flashing/strobe lights, pungent smells and jump scares. There is low lighting throughout the attraction with some tight spaces and narrow corridors. Throughout the tour, audience participation is incorporated in each show to immerse guests in London's gruesome past. Staff are trained to select guests at random, so if you do not wish to participate, please let them know and they will move on to pick someone else. Please note, staff are trained to recognise the Hidden Disabilities sunflower lanyard here at the London Dungeon and we have ear defenders should you or your fellow guests need them. Please talk to a member of staff at any point during the tour should you require any assistance.
Should you wish to enter the London Dungeon but later feel that you need to leave, please just speak to a member of staff or an Actor and they will assist – you are welcome to take some time backstage and re-join the tour when you are ready, or a manager will be called to facilitate your exit.
We recognise this total immersion may be difficult for people who are neurodivergent or have additional sensory needs. To help you be prepared for the experience, we have put together the following sensory journey which describes each different area of the attraction.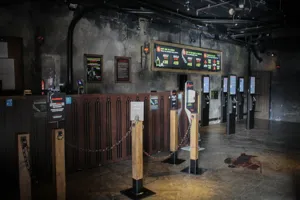 1. Admissions
Here you will enter and show or purchase your tickets. It can get quite busy in this area and sometimes there might be a queue to get in. If you need assistance at any point when queuing, then please speak to a member of the team.
See: Security scanner, Staff, guests, queueing chains, low lighting, barrels & skeletons, ticket machines, tills
Hear: Background music, security scanner beeping, loud noises in the sound track to jump scare, staff & guests
Touch: Glass, ticket machine screens, wooden counter, chains
Smell: Food smells from outside, general attraction smells
2. Photo opportunity
Here you will have the chance to get your photo taken before heading into the depths of the Dungeon. If you wish to skip this part then please speak to a member of the team.
See: Staff, guests, stocks, an axe, camera flashes, green screen, Dungeon theming
Hear: Background music, camera clicking, guests, sound effects, staff
Touch: An axe, wooden stocks, wooden door, photo card given by staff
Smell: General attraction smells.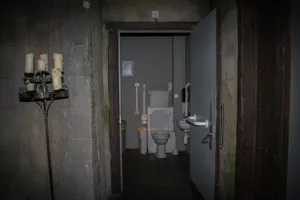 3. Toilets
Once you pass the photo point you will find the toilets including a disabled access toilet. These are the only toilets of the tour.
See: Dark theming and low lighting, entrance to toilets; male, female, and accessible toilets (red emergency cord), mirrors, hand dryers, sinks, staff and guests.
Hear: Sound effects, character voices, background music, guests, hand dryers.
Touch: Doors, handles, soap, taps, wooden signs.
Smell: Cleaning products.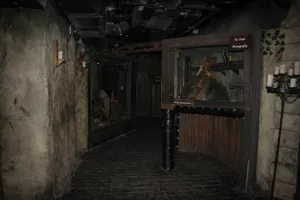 4. Rat run
Here you will see the monk/nun character and await your time to enter into the depths of the Dungeon. In peak times this area can get quite busy, please speak to a member of the team should you need assistance.
See: Props, monk / Nun character, theming, low lighting, wooden gate
Hear: Monk / Nun character talking, background music, loud sound effects, guests.
Touch: Walls, wooden gate
Smell: N/A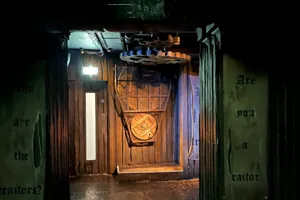 5. Jester
Here you will hear the rules of the tour as you meet our resident Lift Jester as you begin your descent into the Dungeon via our medieval lift. If you do not wish to use the lift then please speak to a member of the team who can take you down an alternative route.
See: Cogs, the Jester, wooden walls, lift doors, small stage
Hear: Mechanical sounds, jester, other guests
Touch: Wooden walls
Smell: N/A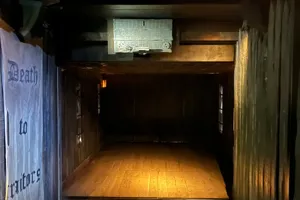 6. The Descent
Here you will begin your descent into the depths of the Dungeon. If you do not wish to use the lift please speak to a member of the team who can take you an alternative route.
See: Wooden walls, jester, strobe lighting, chains
Hear: Voice overs, mechanical sounds, jester talking
Feel: Wooden walls, floor shaking and vibrations
Smell: General attraction smells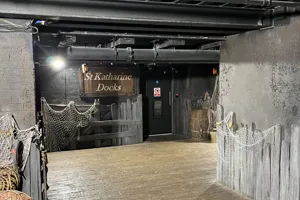 7. The Tyrant Boat Ride
Experience the full force of Henry VIII's wrath in an altogether darker and scarier experience on the Tyrant Boat Ride where you'll meet your fate. You may lose your head - or get wet!! There are ride restrictions in place please speak to a member of the team if you have any questions or would like to bypass the ride.
See: Boats, water, model, axes, barrels, projection, fog, heads, guests, staff member in costume, low lighting and moments of complete darkness
Hear: Sound effects, mechanics, voice over, background music, staff member explaining the rules, staff member giving instructions
Feel: water spray, motion of the boat, air cannons
Smell: Damp, sewage type smell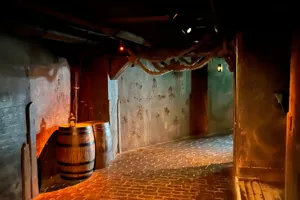 8. Tower Warden
This is where you will exit the boat ride. Now you're in The Tower of London where you'll meet the Tower Warden and find out what kind of traitor you are… and how you'll be executed!
See: Boats, water, model heads, wooden set, tower warden character, stage, wooden dock
Hear: Tower warden talking about his job, crow sound effects, cannon firing
Feel: Haze, spongy floor, wooden boat
Smell: Water, damp smell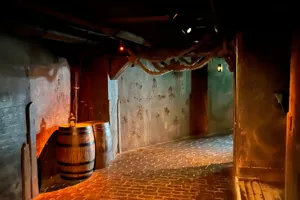 9. Conspirator
The Gun Powder plot is nearly a foot and there are traitors everywhere… A servant to one of the central conspirators in the Gunpowder Plot wants to rock the foundations of this country, ridding ourselves once and for all of King James and his Government! Will you help them?
See: Barrels, conspirator character, wooden door, candles
Hear: Talking, banging, cannon firing, guest screaming
Feel: N/A
Smell: General attraction smells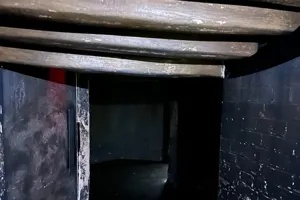 10. Conspirator's Walk
Beyond the city gates you enter a dark, rat-infested tunnel that winds back beneath the city of London. Dare you proceed? This area is the journey between conspirator and bates, were you will try and escape the kings guards and safely deliver the letter.
See: Stairs, low wooden beams, barrels, candles, cobwebs, figures, bars, very low lighting
Hear: Banging, screaming, sound effects
Feel: Cobwebs, low beams
Smell: Gun powder scent
11. Guy Fawkes Gunpowder Plot
Who could resist the chance to BLOW UP PARLIAMENT? Obviously you shouldn't concern yourselves with a certain unlit fuse next to all the gunpowder. Just relax and enjoy the history… it's never been so explosive.
See: Barrels, Master Bates character, smoke, haze, character, projection of Guy Fawkes, lit fuse
Hear: Guy Fawkes, explosion, character talking, sound effects
Feel: haze, smoke, floor shaking
Smell: Gun power scent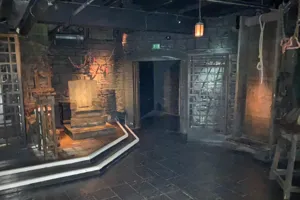 12. The Torture Chamber
Abandon all hope, as you find yourself in the Torture Chamber. The Torturer is looking for 'volunteers'. Prepare to be delighted and repulsed in equal measure. If you do not wish to volunteer please say no when asked and the actor will move on to someone else.
See: Cages, torture instrument, chair, guts, walls, fire, stage, skeletons
Hear: Sound effects, torturer speaking, screams, banging, metal clanging
Feel: Chair, cages, wooden doors
Smell: N/A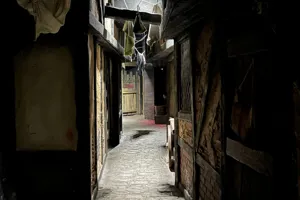 13. Plague Street
Here you will make your way through the plague ridden streets of London and up one flight of stairs to Thomas Farriners Bakery. Here you might potentially experience a jump scare.
See: Figures, bodies, skeletons, plague masks, cobbles, vomiting man, streets, wooden gates, clothes hanging
Hear: Sound effects, voices, water splashing
Feel: Water spray, clothes hanging
Smell: Plague smell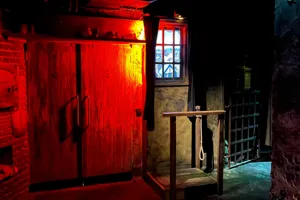 14. The Great Fire of London
It's the 2nd September 1666 and the smell of freshly baked bread is wafting through the air. Why not step into the bakery of one Thomas Farriner on Pudding Lane? It can get quite warm and crowded in this area please speak to one of the characters should you need assistance. 
See: Screens, fire, bread oven, bread, windows
Hear: Voice over, smashing, objects falling, character talking
Feel: Smoke, haze
Smell: Burning bread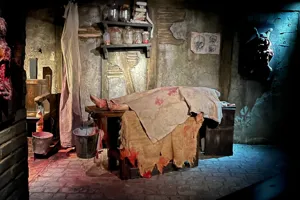 15. Plague Doctor
It's 1665 and the Black Plague is rife. Wander down the winding muddy alley past houses with red crosses, rotting bodies and black rats.Then you'll meet the Plague Doctor. Oh wait... he's dead. Let's not worry, the assistant is in charge and on the lookout for those infected.
See: Body, guts, benches, skeletons, leeches, blood, chair, curtain, hammer, flashing lights, blackouts
Hear: Vomiting, leeches, speaking, sound effects, gong
Feel: Leeches under the leather benches, air cannon, water squirt
Smell: Musky plague smell
16. Curse of The Witch
You'll enter the bowels of Newgate Prison and witness Elizabeth Sawyer, The Witch of Edmonton, awaiting her execution.
See: Cages, witch, jailor, benches, wooden walls, chandelier, flashing lights, strobe, windows, portrait
Hear: Banging, voice over, music,  witch talking, air cannon
Feel: Haze, chairs vibrating, metal cage
Smell: Haze / Smoke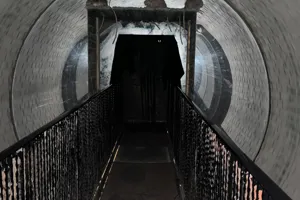 17. Poppins Court
See: Trommel spinning, figures, alley way, street, hanging washing
Hear: Music, voices, sound effects
Feel: Washing, cobwebs
Smell: Bakery smell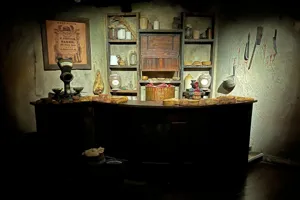 18. Mrs Lovett's Pie Shop
Mrs Lovett welcomes you from a stinking Fleet Street into her famous pie shop. She makes the best pies in all of London. She might even make YOU a pie!
See: Pies, bubbling pot, pie shop, bar, meat grinder, mrs Lovett, hatch, body
Hear: Character talking, voice over, background music, door bell
Feel: N/A
Smell: Bakery smells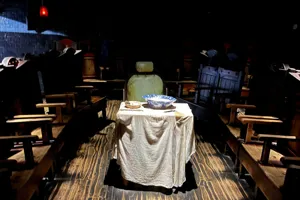 19. Sweeny Todd
Fancy a short back and sides? Looking for a hair cut? Sweeney Todd can see you now and Mrs Lovett's assistant is more than happy to show you in.
See: Chairs, darkness, window, toby/ flora
Hear: Voice over, screams, sound effects
Feel: Chair moving, air blowing
Smell: N/A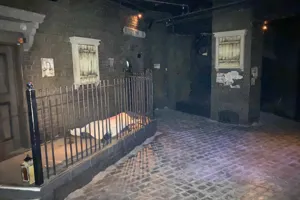 20. Mitre Square
It's 1888 in the foggy gas lit streets of London's Whitechapel and you can smell the fear in the air as a murderer is on the loose. Mary Jane Kelly updates you on the recent Whitechapel murders.
See: Streets, lampposts, Mary Jane Kelly, body, lightening, lantern, blackouts
Hear: Banging, background music, actor speaking
Feel: N/A
Smell: Haze / Smoke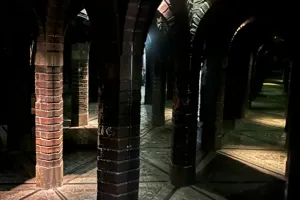 21. Mirror Maze
Quickly! The only way to safety is through the Whitechapel Labyrinth, a confusing maze of narrow streets. If you want to skip this section then please speak to Mary Jane Kelly who will be able to assist in showing you an alterative route.
See: Mirrors, people, models, Walls
Hear: Chains dropping, loud bangs, sound effects and voice overs
Feel: Mirrors, bricks
Smell: N/A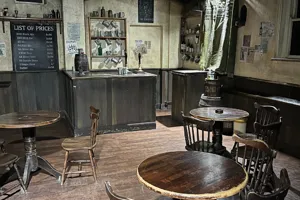 22. The Ten Bells Pub
Let Waldren, owner of the 10 Bells, tell you the ultimate ghost story on a stormy night. Who was Jack the Ripper and will he strike again?
See: Chairs, bar, tables, windows, shelves, character, lighting, flashing light, strobes, blackouts, spotlights
Hear: Sound effects, loud bangs, thunder, rain sounds, character talking, air cannon, music
Feel: Air cannons
Smell: N/A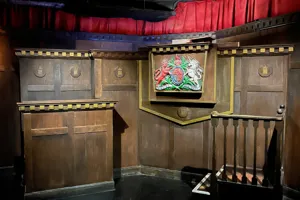 23. The Courtroom
You must be guilty or very guilty to find yourself in this court room and the Judge has little time for your excuses. Who will get pulled up into the dock to confess their crimes? This show included audience participation, if you do not wish to participate, please say no to the judge and they will move on to another volunteer.
See: Courtroom, candles, Judge, docks, books, portraits
Hear: Judge, banging, music, sound effects
Feel: N/A
Smell: N/A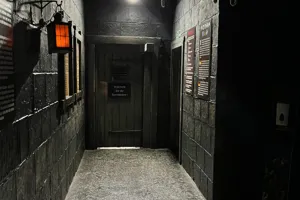 24. The Drop Ride
Welcome to the Newgate Gallows. The crowd cheers and it's your turn to face the drop. The noose is ready as are the Judge, Priest and executioner. The thrilling faster than gravity drop is the ultimate end to your Dungeon journey.
The drop dead is a freefall drop ride to your death in complete darkness. There are several restrictions in place for health and safety which are listed before entering the area. Guests who do not want to take part are given the opportunity to leave.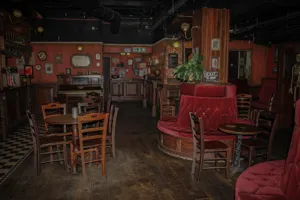 25. The Tavern
This is the end of your tour. Here you can get a drink, take a seat or buy a souvenir in the London Dungeon gift shop.
See: Bar, chairs, tables, piano, shop, drinks
Hear: Music, guests, sound effects
Feel: Tables, chairs, items in the shop, drinks
Smell: Snacks and drink smells