Welcome Back.....
Friday May 14th 2021
Holly Hulme
Fun Days Out in Blackpool, Family Days out in Blackpool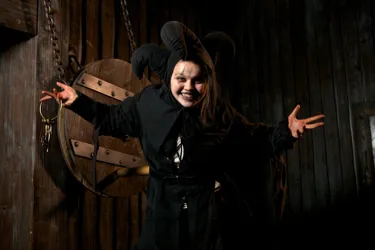 We cannot wait to welcome fresh victims into the bowels of our Dungeon.
Although we are not free of the pestilence of COVID quite yet, you are free to scream and shriek until your black heart's content, whilst behind the safety of your plague mask.
Whilst these pesky safety guidelines are important to your safety, we still want you to be truly terrified and remember your experience fondly, in your nightmares.
Make sure that prior to your suffering (visit), you know what guidelines have changed by visiting our Know before you go page.
A few top tips before you descend into the Dungeon depths…
 Peasants must pre-book tickets
 Plagues masks required at all times, unless exempt     
 Keep ya distance
 No gold coins, cards only for payment
 Groups of six rotters or two miserable households only      
The torturer is sharpening his tools ready for your return… so get those tickets booked you vermin!