Throw Away The Key! Top celebs Brits want to see locked away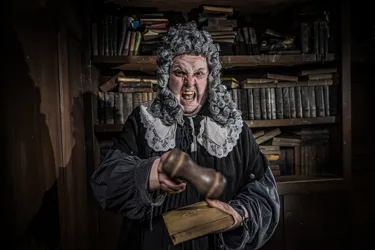 The nation has voted Boris Johnson as the celebrity they would most like to see locked in the Dungeons, according to new national research released today.
The survey, commissioned by The Blackpool, Edinburgh and York Dungeons, saw one in five (20%) name the former Prime Minister their number one choice to be locked in the dark depths of the attraction, with Prince Andrew (12%) landing in second, and controversial media personality, Katie Hopkins (7%) rounding off the top three. 
Elsewhere, divisive broadcaster Piers Morgan (4%) also landed inside the top five, with Morgan's social media and TV presence contributing to the nation's lack of love for the former Good Morning Britain presenter.
Former SNP leader Nicola Sturgeon (4%) also finished in the firing line, while current Prime Minister Rishi Sunak came in narrowly behind (3%).
The Dungeons is renowned for bringing to life the deepest and darkest depths of British history throughout Blackpool, Edinburgh and York. As such, the attraction wanted to delve into the nation's minds to uncover which modern day 'villains' could one day be unveiled as the latest characters in their scare-tastic live shows.
On the other end of the political spectrum, Brits have named Guy Fawkes as the number one prisoner they'd like to see 'freed' from the attraction.
The notorious 17th century figure was infamously involved in the 1605 Gunpowder Plot, in which he and a group of conspirators attempted to assassinate King James I and blow up the House of Lords.
Fawkes earned nearly half of the vote (41%) from the public to be released, demonstrating the UK's maintained displeasure at the recent and current government, with the infamous Pendle Witches (23%) and Dick Turpin (14%) rounding off the top three.
In lighter news, broadcaster, historian and national treasure Sir David Attenborough (35%) was named the UK's favourite British celebrity of all time.
Documentarian Louis Theroux picked up 8% of the vote, while Scottish phenomenon Lewis Capaldi finished in third place (5%).
Mark Mattinson, General Manager of The York Dungeon, said: "What with all the political dramas over the past few years, it's no surprise to see Boris Johnson top the charts as the household name Brits would most like to see locked up in our Dungeons.
"Our patience with the current state of British politics is clearly wearing thin, and this is supported as the public named Guy Fawkes as the Dungeons' character they would most like to see released.
"Elsewhere, people like Sir David Attenborough, Louis Theroux and Lewis Capaldi often bring us respite and escapism from the seriousness of the day-to-day life, so it's nice to see them rewarded by being named the nation's favourite celebrities of all time!"
TOP FIVE FAMOUS FACES BRITS WOULD LIKE TO SEE LOCKED IN THE YORK, EDINBURGH, OR BLACKPOOL DUNGEONS
Boris Johnson (20%)
Prince Andrew (12%)
Katie Hopkins (7%)
Piers Morgan (4%)
Nicola Sturgeon (4%)
UK'S TOP FIVE FAVOURITE BRITISH CELEBRITIES
Sir David Attenborough (35%)
Louis Theroux (8%)
Lewis Capaldi (5%)
Stephen Fry
JK Rowling OBE