The anniversary of King Henry VIII's birth
On the anniversary of the birth of King Henry VIII, we are taking a look back through his greatest achievements and tumultuous past, that makes him one of the most well known Kings in English history.
Early Life
Ruling over England for 36 years, King Henry VIII brought about huge changes to the nation, including the introduction of the Protestant Reformation and the separation from the Catholic Church. 
Born on the 28th of June 1491, Henry VIII was the son of Henry II and Elizabeth of York. Despite being the youngest child, he became heir to the throne in 1502 due to the death of his brother and subsequently succeeded in 1509. Taking the throne at the age of 17 - Henry married Catherine of Aragon, daughter of the Spanish rulers Ferdinand and Isabella. 
Catherine of Aragon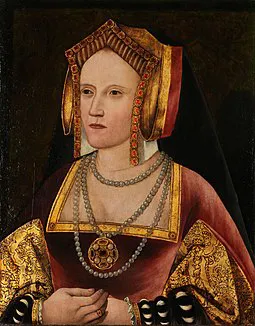 Catherine of Aragon - the first wife of King Henry VIII had first married King Henry VIII's older brother, Arthur in 1501. Unfortunately, a sudden illness led to the demise of Arthur therefore Henry then became the heir to the throne, marrying Catherine of Aragon 6 weeks later.
During his marriage with Catherine of Aragon King Henry went on to fight 3 different wars in France and later went on to having 3 different daughters and 3 different sons - all of which died in fancy unfortunately.
Playing an active role in his duties as the King of England - he made significant changes and investments in the Royal Navy, increasing their quantity of the ships by over 10,000. Despite his achievements - Henry longed for a son, a male heir to the throne. Unfortunately King Henry and Catherine Aragon were not able to produce a male heir, King Henry ended up fathering a healthy illegitimate son, Henry FitzRoy in 1519 which appeared to bother the King.
During his marriage to Catherine of Aragon, King Henry had a number of affairs with different mistresses including a woman called Anne Boleyn, the sister of Catherine's lady-in-waiting, Mary Boleyn.
Anne Boleyn and the birth of the Church of England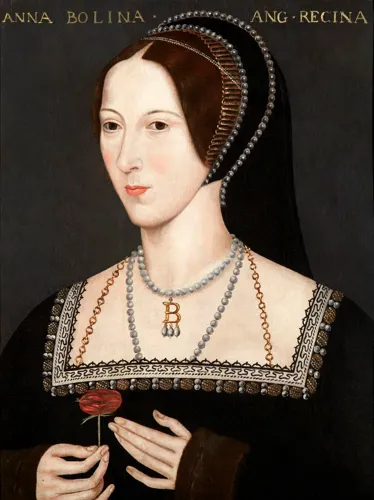 King Henry and Anne Boleyn first met in 1525, at a time when his marriage to Catherine of Aragon was fragile. Over time, 34 year old Henry became besotted to 25 year old Anne Boleyn and eventually asked her to become one of his mistresses of which she refused due to her Christian beliefs. Eventually, King Henry began a pursuit to annul his marriage to Catherine of Aragon which many historians believe was also influenced by his growing frustrations of a lack of a male heir and Catherine turning 40. 
The annulment of his marriage to Catherine of Aragon: King Henry believed that Catherine was unable to produce a male heir to the throne due to their union being "condemned in the eyes of God" as he had married his brothers wife. Henry stated that Leviticus 20:21 in the Bible frowned upon this union and therefore believed it stood as good reason to annul his marriage.
At this time, Catherine of Aragon's nephew - King Charles V of Spain was the Holy Roman Emperor and refused to grant the King's annulment - this was during the time Pope Clement VII fled the Vatican due to an attack on Rome. As a a result, King Henry became increasingly frustrated. Eventually Pope Clement agreed to pursue negotiations with Henry, which spanned over several years. 
As more time went on, the King's advisors Thomas Cromwell and Thomas Cranmer convinced the King that the King of England need not be at the mercy of the Pope's jurisdiction. They therefore found a protestant solution, with the King appointing Thomas Cranmer as the Archbishop of Canterbury, subsequently leading to him approving Henry's divorce. This sparked the beginning of the English Reformation, the separation from the Catholic Church and the establishment of the Church of England. 
For more specific history on the life and story of Anne Boleyn, see here. 
Henry as Monarch 
During his reign as King, King Henry the 8th experienced a lot of controversy and is famously known as having 6 wives, however, he was also considered one of England's greatest statesmen.
King Henry was involved in improvements with medicine in 1518. Before his intervention many physicians and clinicians practiced without proper regulations. There were also many unqualified individuals offering medical treatment and advice resulting in many people being scammed.
During his time as King, King Henry the 8th began to change this and founded the Royal College of Physicians, accompanied with an Act of Parliament.  The Royal College of Physicians provides qualified individuals with a license allowing them to practice and can also punish people who attempt to practice without the correct license. 
Standards for malpractice were also established.
King Henry was also involved in maritime developments - thanks to his efforts, England became a single land mass to be protected and was now recognised as a defensible island - with forts built along the south coast. He was also involved in the growth of a strong royal navy.
Henry established Deptford and Woolwich as Royal dockyards and was commonly known as the "father of the English navy". 
King Henry also achieved great political change during his reign - he increased the power of parliament and the monarchy whilst decreasing the power of the nobles. He also had 2 marriages which were considered to have given him a political advantage with Germany and Spain. 
King Henry's marriage to Anne Boleyn ended with her being beheaded for treason and incest. After which, he went on to marry another woman of his court - Jane Seymour. Jane was able to provide Henry with the son he desperately wanted - the future Edward VI. 
Jane Seymour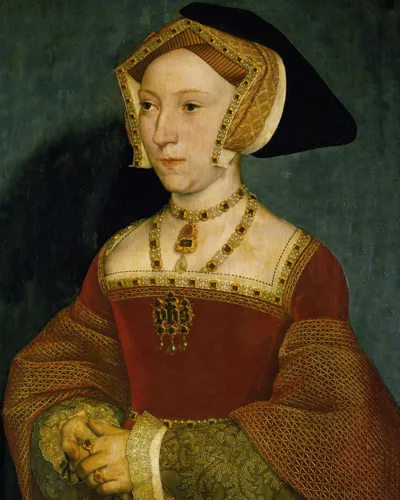 Jane unfortunately died 12 days after giving birth to King Henry the 8th's first son. Prior to their death, there was a lot of tension between Jane Seymour and Anne Boleyn. Anne Boleyn and Jane Seymour were related, with their mothers being first cousins - when Anne found out about Henry's interest in Jane, she was not quiet about her disapproval with sources suggesting the two had a fight more than once at court. 
Not much is known about Jane Seymour, but she married King Henry 11 days after Anne Boleyn's execution. She is believed to have first appeared in court in 1529, initially at the lady in waiting for Catherine of Aragon and then Anne Boleyn. 
Anne of Cleves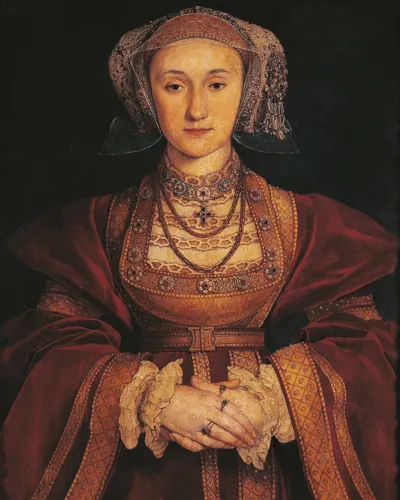 Following the death of Jane Seymour - King Henry then went on to marry his fourth wife - Anne of Cleves.  This marriage was arranged to form a political allegiance with Germany and establish a relationship with Anne's brother, the ruler of a Protestant duchy in Germany.
It is believed that when King Henry first met Anne in person, he tried to stop the marriage as she did not look like the painting he had seen - this was not possible and they got married on the 6th of January 1540. 
Many believe King Henry had grown to resent Anne due to her limited English and lack of sophistication. Similar to his first marriage, Henry also had this marriage annulled, accepting a 6 figure settlement from the King. Anne lived peacefully in Richmond until her death on July 16th 1557. Some regard her at the "real" survivor of King Henry as upon the annulment of their marriage, Anne became known as "The Kings Sister" and was one of the highest women in the country. She was also given several castles and properties, partly because she had not put up a fight against the King's wish to end the marriage.
Catherine Howard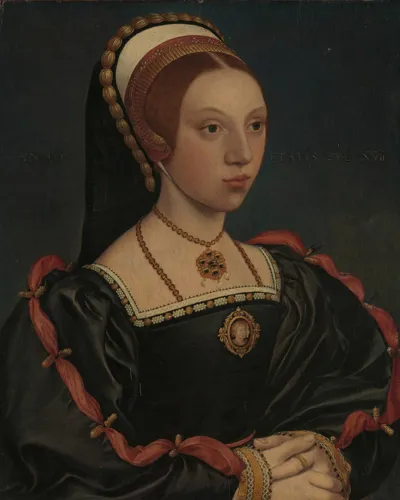 As with his previous wives, King Henry met his fifth wife Catherine Howard, as she had served as one of the ladies in waiting to Anne of Cleves. At the time of their marriage, the King had become overweight and was not able to walk, the King was at least 30 years older than Catherine when they got married - she was believed to have been between 17-19 years old.
Initially the King had referred to Catherine as his "rose without a thorn" however after some time rumours began to circulate that Catherine had been cheating on the King. She was eventually found guilty of treason and adultery and was executed at the Tower of London in 1542.
Catherine Parr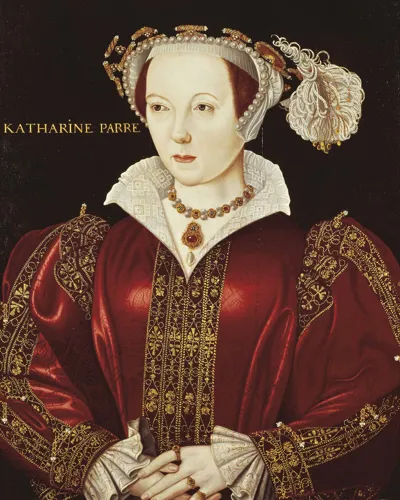 After the death of Catherine Howard, King Henry married his 6th and final wife - Catherine Parr. King Henry established the Church of England and with Catherine Parr eventually beginning to show an interest in Protestantism, the King had her arrested. 
Catherine managed to avoid the same fate as Henry's previous wives, she outlived the King and went on to remarry and have a child. She also became a valuable step mother to Henry's other children. Whilst Henry was alive, he had taken away his two daughters, Mary and Elizabeth's place in the line to succession - Catherine Parr managed to persuade him to restore this.
She eventually died on September 5th 1548 - a year after the King.
Death and Legacy of King Henry VIII
On the 23rd of January 1547 at aged 55 - King Henry the 8th died. In his later years he grew moodier and more suspicious. Upon his death, he was succeeded by his 3 children. First by his son Edward VI, who unfortunately died six years after ascending to the throne. He was then succeeded by Mary I, in her 5 year reign she began reforming England back into a Catholic nation.
Finally, Elizabeth I ascended to the throne, she was the longest reigning monarch during the Tudor era and she restored King Henry's initial Protestant regime in England.
King Henry VIII and the London Dungeon
At the London Dungeon, discover London's perilous past where you will experience the wrath of King Henry the 8th.
Join our resident Lift Jester as you begin your descent into the Dungeon via our medieval lift. This cheerful rascal will prepare you for 1,000 years of hysterically horrible history. It all starts here, guv'na!
Hear the grinding cogs and chains as the winches strain on your way down. If you're lucky, you'll arrive safely at the river docks of the Thames but if you're not...well, we dread to think.
Book Now