RATBUSTER: 5 Myths About Rats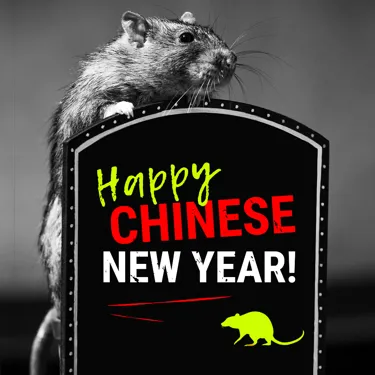 Hello traitors! To ring in Chinese New Year - the year of the rat - we are most (dis)pleased to announce we'll be bringing back our infamous pop-up Rat Cafe at the end of this month. In honour of this, we thought we'd dispel a few myths surrounding our favourite Dungeon creatures. So, just this once, we'll allow you to get to know our furry friends a little better...
1) RATS, RATS ARE EVERYWHERE!
Legend has it that you are never more than 6 feet away from a rat at any given time. To put it bluntly, no. Not true. The UK has 40 million acres of land and a population of 40 million so if this was a thing, the country would be absolutely overran. A living, breathing cesspool of rats. The United Kingdom of Rats. The reality is it's more like 1 in 36, a much easier number to deal with...
2) THEY ARE DIRTY
It's a common misconception that rats are filthy, incontinent sewer dwellers. In reality, although some do live in sewers, our little pals only wet themselves when they are in distress and are really pretty good at the whole self-grooming thing. On par with your friendly neighbourhood cats and dogs actually. Believe it or not, their skin also has an agreeable, perfume-like scent!
3) RATS CAUSED THE PLAGUE
Probably the most pervasive myth when it comes to rats is their reputation for spreading the Great Plague of 1665, something we explore in our show, The Plague Doctor.  It was actually the fleas that carried the plague, then the rats carried the fleas and the fleas carried the plague...
4) RATS ARE STUPID
The reality is, rats are no less intelligent than other animals of their size and it's been proven that rats can understand expressions of pain on their fellow rodent's faces and react appropriately to them. They can also recognise their own human-given names and respond to them when called. Amazing!
5) RATS ARE UNFRIENDLY
Rats are highly social animals and communicate with each other using high-frequency sounds. They've actually even been recorded singing like little birds at each other when they are happy. In one notable laboratory test, rats were given the choice to save one of their friends who was having to tread water or have a chocolate treat instead. The vast majority chose to help and save their friend.
I'M NOT CRYING, YOU ARE.
Come along and check out our Rat Cafe when it goes live on the ticket page here. More info coming soon.