Home of Halloween Launch Night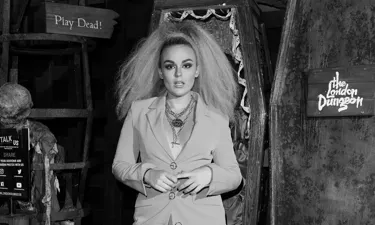 London's South Bank was alive with the sound of celebrity screams as bold celebs dared to enter the London Dungeon for an exclusive first look at the Home of Halloween.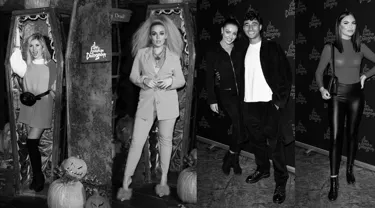 For a limited time only, the attraction is launching its darkest and most terrifying Halloween show yet where the infamous Jack the Ripper's story will be explored in detail like never before. Guests were immersed in Jack's twisted tale, heard the stories of the press who gleaned every gruesome detail and the sensationalists who twisted the stories to their own advantage.
First up, swapping screams of 'I've got a text' to screams of just plain terror, was Amy Hart as she endured 20 haunting tales from some of London's most nefarious characters. Still preferable to seeing Curtis perhaps…
Amy was joined in her turmoil by singer, and former Celebs Go Dating contestant, Talia Storm, who was dressed to impress on a cold October night in the capital. Talia endured the sights and smells of the plague, the Great Fire of London and certainly hit those high notes once she was strapped into in The Torturer's chair.
Following on from their Strictly success, dazzling duo Amy Dowden and Karim Zeroual did their best to Cha Cha slide away from the infamous residents within the Dungeon. The pair showed their flawless teamwork and made it through to the next round this time.
It was a girl's night out for TOWIE trio of Ella Wise, Chloe Ross and Kelsey Stratford celebrated it trip to the stocks, and spent the evening on edge as they descended into the Dungeon coming face to face with King James' Head Torturer, Guy Fawkes and The Plague Doctor.
Amy Willerton along with new fiancé Daniel Day also attended as the pair had an early honeymoon courtesy of the London attraction. It was certainly one they would not forget as they frequented the dark streets of Whitechapel and took a trip to Newgate Jail.
Also in attendance and swapping the red carpet for plague street was actress, Rosie Day.
All guests experienced a 'hangy' ending as they plummeted into the depths of the Dungeon on the exhilarating vertical drop ride, Drop Dead.
This Halloween, The London Dungeon are inviting guests to scream, laugh and then scream again as they brave their way through London's scariest outing; The Home of Halloween Hide and Seek Show.
The Home of Halloween Hide and seek show at runs until 3rd November 2019. For more information on tickets and visiting hours please visit www.thedungeons.com/london/en/