Judge Blackheart is not a patient man...
As he commits you all to the labyrinth of the lost souls, will you find a way to escape?... hurry!
Quickly! There's no time to hang around, a storm is approaching and the dark streets are no longer safe. The only way to safety is through the Labyrinth, a confusing maze of narrow streets.
You'll feel like you're going round in circles (haha, you are!) but whatever you do, stay as far away from the screams as possible... move quickly now, no really... HURRY!
WHAT YOU'LL LEARN...
Whether you have a good sense of direction
Whether you can stay calm when there's panic on the streets?
Whether you'd really just prefer to go to the pub!
SHOW INFO
The maze is not meant to be easy!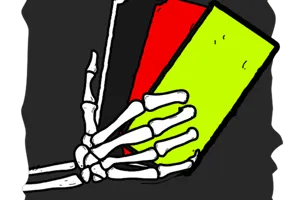 DUNGEON TICKETS
Enjoy entry to the Blackpool Tower Dungeon, all shows and rides included with ticket purchase
Guaranteed entry and reschedule for free when you book online 
SAVE UP TO 20% when you book in advance
BOOK NOW