Yikes, this isn't looking good for your underwear!
You have been judged and sentenced in Lancaster Gaol and now you must accept the consequences of your crimes. You are guilty of witchcraft and sentenced to hang - with no right of appeal...
IT'S TIME...
The crowd cheers and it's your turn to face the drop. The noose is ready as are the Judge, Priest and executioner. The thrilling faster than gravity drop is the ultimate end to your Dungeon journey. 
WHAT YOU'LL LEARN...
What the 'long drop' is
How it felt to be hung as a witch
How loud the crowd cheered with excitement
What a cracking neck sounds like. Cringe!
SHOW INFO
You're sentenced to hang!
This is an exhilarating vertical free fall drop ride
Minimum height restriction: 1.4 metres
Ride Restrictions
The minimum height restrictions for Drop Dead Drop Ride is 1.4 metres. All riders must have the ability to sit upright on the ride and brace themselves against the ride forces; wheelchair users must be able to transfer unaided into and out of the ride seats. The ride is not suitable for guests with:
Heart complaints or Pacemakers
Back or Neck complaints
Broken limbs
Pregnant guests
Photosensitive Epilepsy
Have a condition that may result in injury or complication from riding
The Drop Ride is an optional ride and if you fancy a reprieve, you can skip the ride! We are a Dungeon, but not actual torturers! Please also note that it is not accessible for guests who are unable to walk unaided or guests who cannot use stairs. If you want to skip the rides, just let our actors know (you'll be given the opportunity to opt-out during the tour).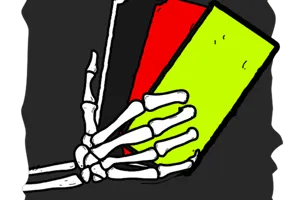 DUNGEON TICKETS
Enjoy entry to the Blackpool Tower Dungeon, all shows and rides included with ticket purchase
Guaranteed entry and reschedule for free when you book online 
SAVE UP TO 20% when you book in advance
BOOK NOW