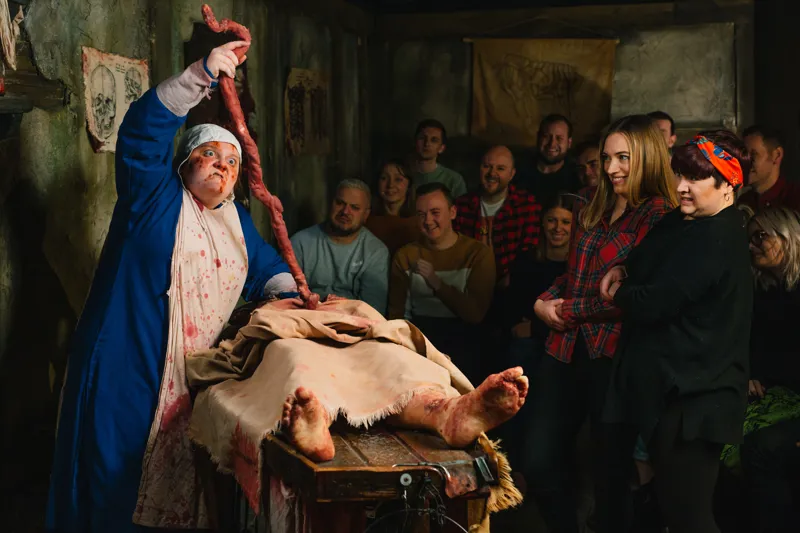 Accessibility Information
Information for visitors with hidden disabilities
Please note we are trained to recognise the Hidden Disabilities sunflower lanyard here at the London Dungeon and we have ear defenders should you or your fellow guests need them. Please talk to a member of staff at any point during the tour should you require any assistance. 
To visit Access Able for a comprehensive, interactive look at the attraction click here.
Accessibility Information
The London Dungeon experience is largely delivered by actors and voiceover audio, often in low light levels. Therefore guests with low vision, a visual impairment or hearing difficulties, may struggle to
experience the attraction fully; however you are able to bring a carer, personal assistant, support worker or interpreter to assist.
Guests with disabilities are entitled to a 'free carer's ticket' when relevant documentation is shown to our admissions staff.

Assistance dogs are welcome in The London Dungeon, however due to health and safety regulations they are not permitted to ride on any rides with the guests. A team member can assist with providing an alternative
route for the dog, if their owner is able to experience the ride. Please speak to a team member to facilitate this. Please note there are loud noises, mist effects and smells (good and nasty) that may be confusing
for assistance animals
The London Dungeon is very dark, with loud noises, bangs and sound effects. Actors often perform 'jump scares' which may shock you, however no one will touch you or chase you. There are areas within the
attraction with intentionally distinct, strong, pungent smells. There are also lots of lighting effects, flashing lights, and one instance of strobe lighting.
We recommend speaking to a team member before you enter The London Dungeon to discuss your photosensitive epilepsy. Please be advised The London Dungeon tour, incorporates low level, flashing and
strobe lighting at various intervals.
If you cannot be subjected to strobe lighting, we would recommend you speak to a team member regards to this.
Some shows that incorporate the aforementioned lighting include:
The Lift (at the beginning of the experience)
Guy Fawkes
Plague Doctor's Surgery (blackouts and light 'stings')
Escape from Newgate Prison
The Drop Dead Drop ride
However please be advised other shows throughout the tour including our seasonal shows could potentially include flashing lights, please enquire further with a member of our team pre tour.
The London Dungeon is not a scare attraction, nor is it a horror maze, it is an interactive theatrical experience.

Inside The London Dungeon, it is very dark, with loud noises and bangs, flashing lights, jump scares and areas which intentionally smell quite pungent, so the experience is intentionally a very sensory one.
Guests with some neuro-diverse conditions, including autism, may feel that the experience is an overwhelming one.

Should you wish to enter The London Dungeon but later feel that you need to leave, please just speak to a member of staff or an Actor and they will assist – you are welcome to take some time backstage and re-join the tour when you are ready, or you are able to leave, and a manager will be called to facilitate your exit.
The London Dungeon is very dark, with loud noises, bangs and sound effects. Actors often perform 'jump scares' which may shock you.

Guests with pacemakers are unable to ride the Drop Dead ride, due to the presence of magnets in the ride which can affect the functioning of the pacemaker.