Top London Historical Monuments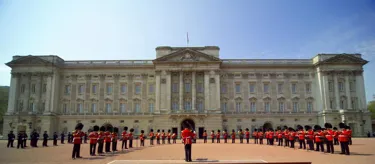 Discover our guide to the best and most famous monuments in London for your family trip.
Top London Historical Monuments
1. Must see London Historical Monuments 
London's vast and diverse history can be seen in the numerous monuments and grand landmarks dotted across the whole city. Spanning over 300 years, monuments and public statues across London have been put in place to celebrate.
The Cenotaph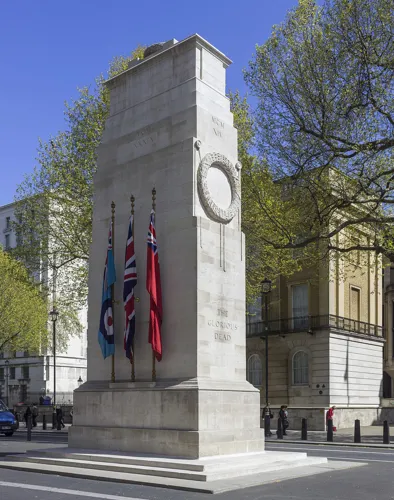 The Cenotaph is one of London's historic sites which commemorates those who died in the First World War.
The cenotaph also means 'empty tomb' in Greek – it was designed by Edwin Lutyens in 1919 and each year millions of people visit this historical landmark in London to pay their respects.
The First World War resulted in casualties in numbers that had never been seen before in developed nations. Around 1.1. million men were killed which sparked the creation of numerous memorials.
The monument was rededicated in 1946 to include the individuals who also died in the Second World War.
Visiting the Cenotaph is free and the monument can be accessed by car, or public transport. For more information see here.
Wellington Arch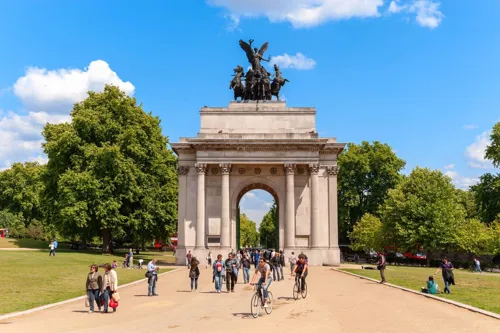 The Wellington Arch was originally built as the entrance to one of the most famous historical places in London – Buckingham Palace. It then later become a victory arch representing Wellington's defeat of Napolean and a statue of the Duke of Wellington was added to the top – attributing to its name.
In 1882 this historical landmark in London was moved to the entrance of Hyde Park, where it can currently be found. This may have been as a result of some of the public scrutiny the monument received upon its completion, with it once being called "the great sculptural fiasco of the 19th century".
You are not required to book your ticket in advance; however this is recommended to allow you to get the best price.
Find out more here.
St Paul's Cathedral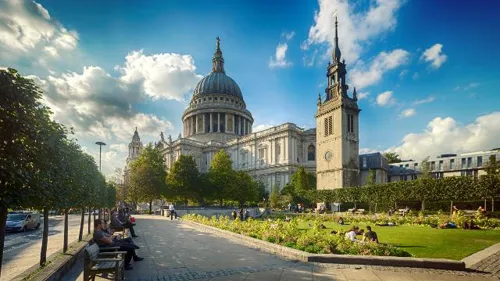 St Paul's Cathedral is another famous historical place in London. This Anglican cathedral is set at the highest point in London on Ludgate Hill and is dedicated to Paul the Apostle. St Paul's Cathedral is one of the most recognisable monuments in London.
As the second largest church in England, after Liverpool cathedral, this building is still currently used as a place of worship and each service is free to join.
The easiest way to get to this historic London site is from the nearest tube station called "St Paul's" on the central line. This monument is less than a two-minute walk from the station.
For more information on St Paul's Cathedral, please see here.
Monument (The Monument to the Great Fire of London)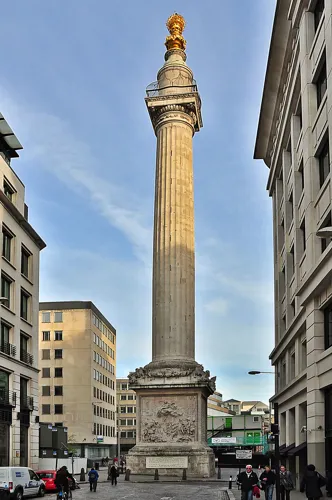 When searching for London historical landmarks – the Monument to the Great Fire of London is a site that should not be missed. Situated at the junction of Monument Street and Fish Street Hill in London, this landmark is more commonly known as "the Monument" and was put in place to commemorate the great fire of London in 1666.
The great fire of London started at a bakery which was owned by the King's baker – Thomas Farriner. Unfortunately, the ovens were not extinguished correctly, causing the heat is create sparks setting fire to Thomas's wooden home.  
The flames quickly spread as most homes were made from wood – the fire went on for four days, destroyed 80% of the city and rendered 130,000 people homeless. This monument is therefore now an important part of London architecture history. It took around 50 years to rebuild the area of London that perished – many great buildings were destroyed including St Paul's Cathedral.  
When planning a trip to visit historical sites in London, England – it is important to consider the opening times and how best to get there.
Open daily between 9:30am-1pm and 2pm-6pm – last entry to The Monument to the Great Fire of London is at 12:30pm and 5:30pm.
See here for information on how to book tickets.
Trafalgar Square, including Nelson's Column, the Fourth Plinth and the state of Charles I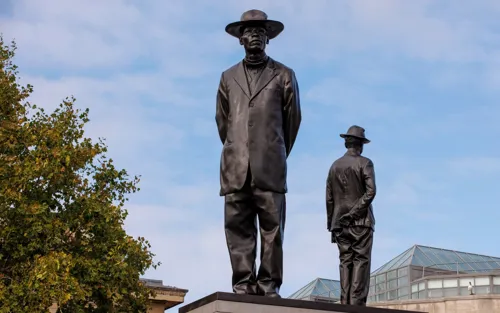 Trafalgar square is one of the busiest and most vibrant historical places in London – this area is commonly used as a place of communion, as well as a place to see friends, celebrate and even sometimes debates and protests.
This monument has been of great significance dating back as early as the 13th century. Initially it was used as the site of King George IV's mews (stables) – eventually the mews were relocated to Buckingham Palace and the area underwent a redevelopment.
Several historical landmarks in London occupy the square.
Nelson's Column was the first to be built in this area - standing at 52m tall this statue commemorates Admiral Horatio Nelson - in 1805 he died in the Battle of Trafalgar. Notably, there is considerable controversy around Admiral Horatio Nelson and Nelson's column. He was very outspoken about his opposition to the abolition of the slave trade, had many close links to prominent slavers and tried to stop the work of William Wilberforce, an abolitionist who wanted to end Britain's participation in the slave trade.
The Fourth plinth in Trafalgar square if the northwest plinth. All four corners of the square have one plinth, with the fourth one being built with the intentions of holding an equestrian statue of William IV. This beautiful plinth also has rotating artwork on it.
The statue of Charles I is another historic site in London. Between the years of 1625 to 1649, Charles I was the king of England – during his reign there were numerous conflicts with parliament, contributing to the English Civil War which took place between 1642 and 651. Traditionally, the status of Charles I is the centre of London - here traffic converges in all directions and this location is also the centre from which all measurements for the distance to London were gathered. Therefore, making this statue a very important historical landmark in London.
2. Our top 5 picks for accessible London landmarks and monuments
Accessibility consideration should be remembered when planning a trip to London. Many London historic buildings and sites are in central London – where taking the tube is the easiest mode of transport.
Not all stations have lifts therefore it is important to plan your journey in advance. There are also several buses available, along with the options to use taxi services or uber.
You can plan your journey on the Transport for London website.
Boadicea and her daughters Monument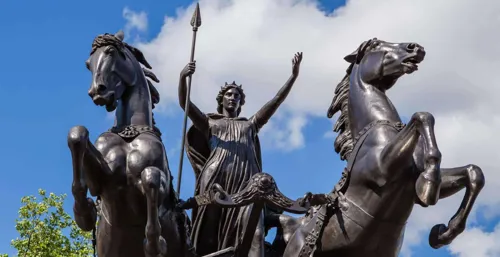 Boadicea and daughters are a bronze sculptural group another exciting, historical landmark in London. These statues were built as a representation of a woman called Boudica – the Queen of the Celtic Iceni tribe at the time. There is very limited information available about Boadicea and her life, she did however, lead the Iceni and Trinovantes in revolt against the Roman Empire resulting in Boudica either dying of illness, or suicide and Britain was conquered by the Romans.
By the Victorian Era, Boudica became known as a national symbol and many accounts of her life and battles were published and she became known as a symbol of British independence.
You can find out more information about this statue and how to get there here.
Tower Bridge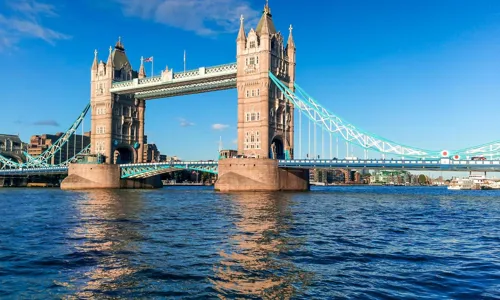 Tower bridge is an iconic historical place in London, here you can enjoy the city of London from a panoramic view 42 metres high, above the River Thames. This unforgettable view includes The Shard, Shooters Hill and a unique view of St Paul's cathedral to name a few. 
This experience includes a timed entry ticket, allowing you to explore the Engine rooms and Bridge's Towers. 60-90 minutes is the recommended time you will need to get the most out of your visit. 
Adult tickets are £11.40, child tickets are £5.70
For more information on where to book your tickets, facilities and accessibility and venue and map details - see here. 
Tower of London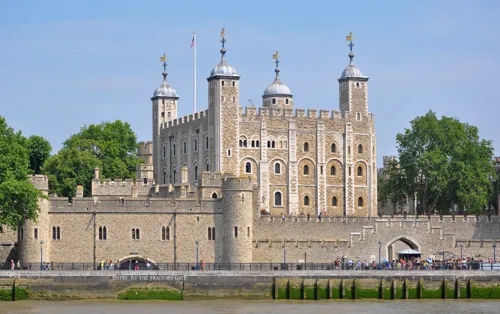 If you are interested in London history – ensure that you take a trip down to the Tower of London this summer to visit one of England's most iconic structures. Experience a taste of royalty and get up close with the Crown Jewels. You can also book an audio guide tour and unlock secrets whilst enjoying exciting stories of the Tower of London's history.
A visit to the Tower of London is a good option for families due to the variety of activities available. Enjoy their delicious food options, take a historical tour with the little ones or explore the various different exhibitions on offer.
For more information on the tower of London, ticket prices and how to get there, see here.
Big Ben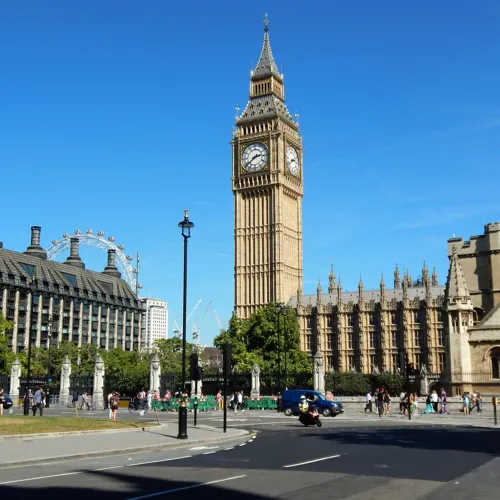 Big Ben is one of the most well-known historical landmarks in London – its also known as the world's most famous clock. Situated next to the Houses of Parliament, Big Ben is the name given to the big bell located inside the clock tower.
Built in 1858, Big Ben first rang in Westminster on the 31st of May 1859 and stands at 96 metres tall. Big Ben's London history and the history of the Houses of Parliament can be enjoyed on one of the tours offered in the grounds.
Find out more information and how to book tickets here.  
Westminster Abbey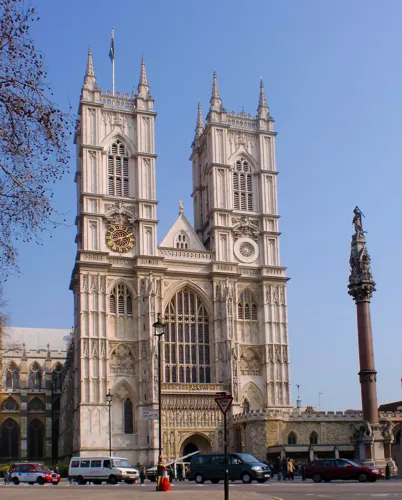 Westminster Abbey is another must see historical place in London with over a thousand years of history. This Anglican church is a site where man coronations and national ceremonies have taken place.
There is lots to see at Westminster Abbey including Poets Corner, allowing you to pay your respects to over 100 writers and poets including William Shakespeare. There are also many wonderful statues of modern heroes on display including Martin Luther King Jr. It has also been the location of the coronation for all British monarchs since 1066 making it a must-see historical place in London.
The visit takes roughly around 2 to 3 hours and tickets can be booked online in advance here.
3. Our 5 favourite less known, quirky and hidden monuments
Buxton Memorial Fountain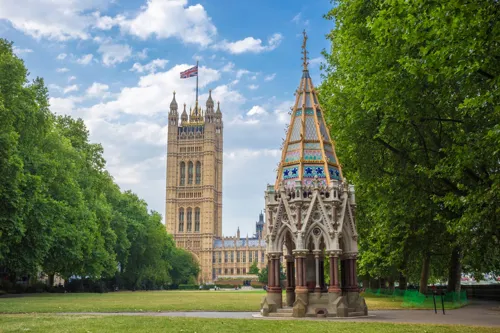 The Buxton Memorial Fountain is a historical landmark in London that celebrates the abolition of slavery and also celebrates the work and determination of Thomas Fowell Buxton, an MP in England. Thomas Buxton campaigned in parliament against slavery and played a key role in the British and Foreign Anti-slavery social to abolish slavery worldwide.
This memorial is a drinking fountain in London, designed by Charles Buxton in 1865. The memorial can be found in Millbank, Victoria Tower Gardens.
Opening times: the gardens open every day from 7am-10pm – ticket are not required as entry to the garden is free.
The National Windrush Memorial
When searching for London historic sites – the National Windrush Memorial is one which is less well known, but incredibly beautiful.
Created by Basil Watson this monument pays tribute to the strength, resilience, ambition, drive, and determination of the Windrush generation, who helped re-build the British economy after the Second World War.
The monument is in Waterloo station, with this site chosen due to it's significance to the Windrush story.
Who are the Windrush generation?
The HMT Empire Windrush is now a symbol of greater mass-migration and movement to the UK. Between 1948 and 1971 around 5000 passengers arrived to the UK from the Caribbean and became known as the Windrush generation.
Many of these individuals served in the Second World War, they were encouraged to migrate to the UK to help with post-war effects and help build the UK's economy due to shortages after the war - many become key figures in the NHS as nurses among other professions.
They played a key role in making the UK what it is today.
This monument is also located near other London attractions – with Waterloo station being the closest station to the London Dungeon.
Platforms Piece: Four Bronze Commuters of Brixton Station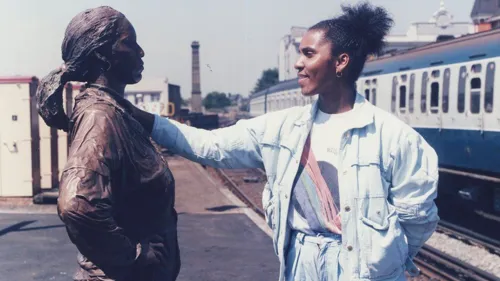 At the heart of Brixton railway station, lies another historical London landmark in the form of four bronze figures on the platforms. In 1985 the Public Art Development Trust recommended that a piece of artwork was commissioned for Brixton railway station by British rail. It was part of a large Brixton station improvement scheme.
These statues illustrate three Brixton residents – Joy Battick – who has 2 statues there, Peter Lloyd and Karin Heisterman in a piece of art known as "platform pieces", an exciting part of London architecture history.
The artist, Atherton, wanted the statues to present true residents of Brixton and in November 2016, Platform pieces was listed by Historic England who affirmed two of the figures were the first representations of black people in the UK, in the form of a sculpture.
The Suffragette Memorial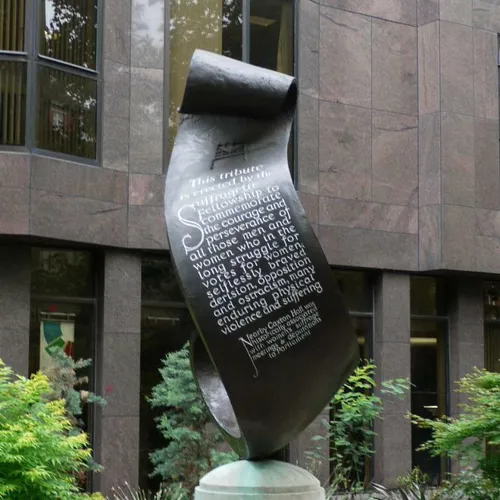 Another historical place in London worth a visit is the Suffragette memorial situated in the north-west corner of Christchurch Gardens, Victoria, London. This sculpture celebrates the efforts of courageous women who fought for women's suffrage in the UK.
At the time, a big effort for them was fighting for women's right to vote in the UK – it became a national movement during the Victorian period. During the women's rights to vote campaign several tactics were used including art, debate, and attack on property. The movement was initially founded by a small group of women in Manchester in 1903 with women finally being given the same voting rights as men by 1928.
Scenes in the Square: Leicester Square Film Statues Trail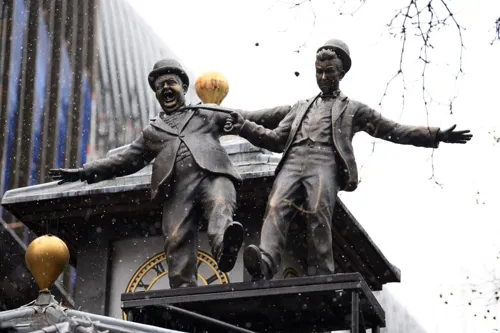 Finally, a day out in London would not be complete without visiting this cool and quirky historical place in London -the interactive Scenes in the Square bronze statue trail in Leicester Square.
This trail celebrates the love Britain has for film and showcases memorable and iconic characters from the past century of film.
The statue of Charlie Chaplin was the first statue placed there in 1981, made by a sculptor called John Doubleday. The statue depicts Charlie Chaplin, a filmmaker, actor, and comedian in one of his most famous roles – The Tramp.
After this, several other statues were added, bring London's love for film and entertainment to life! Other iconic statues include Bugs Bunny, Harry Potter and Mr Bean.