The Truth Behind: Seance
Thursday February 1st 2018

'ello from the other side... Forgive us; this post isn't actually about Adele. But now you're here let us tell you about another iconic British woman – the formidable Agnes Guppy.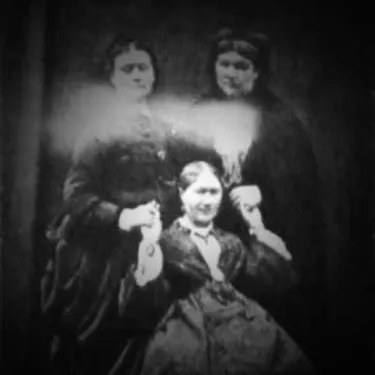 Agnes Guppy, pictured top left in 1882
Agnes Guppy (also known as Mrs. Samuel Guppy) was the first British medium to perform full-form apparitions in the UK. She was an expert in contacting the supernatural world and was the queen of spiritualist circles from the mid-1860s to the early 1870s.

It all started in her childhood, when other children were out causing mischief, Agnes was inside, getting visions of spirits and well, probably also causing mischief, but in the spiritual world. Despite her grandfather's best efforts to fix her visions, including freezing cold baths and rigorous exercise regimes, Agnes worked hard to maintain her psychic gifts – in fact, she made a living out of it.

She made quite a name for herself in the Victorian era. Her legendary shows had her levitating out of her chair, pulling fruit, flowers and starfish out of thin air and summoning spirits from the afterlife. Agnes was so good she was even hired by Royals. However, don't be fooled. Despite her out of this world talent, she wasn't the most secure character. Her plot to throw acid in her (much prettier!) rival's face was exposed in 1873 revealing her slightly darker and insecure side.

This February, she's back in London and back to doing what she does best. You can join the infamous Agnes Guppy as she takes her place at the table for a very special Séance – manifesting spirits for some lucky chosen traitors to our Dungeon.

Do you dare enter the séance with London's most famous medium? We can't guarantee which spirits will come to visit, but we can guarantee you won't forget it. 
Dare you summon the spirits in Agnes Guppy's LIVE séance? If so, you better be quick - she's only around 10th-18th February 2018!
Have a horrible day!
The Dungeon Keeper