The Top 5 Places to Drink on the Southbank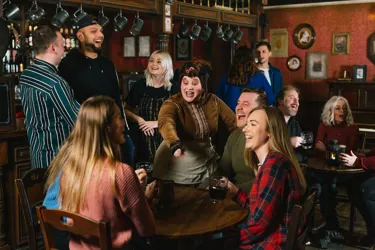 Hello to all the drunkards, pisspots and boozers out there (and there are a lot of you). After surviving the blood-chilling trials of The London Dungeon; you'll be aching for a tipple to drink away your sorrows. Lucky for you, we've been conducting some "research" into the best establishments the Southbank has to offer.
Read on to discover your next favourite bar. Trust me, you'll be needing a drink once we're through with you.
1. The Cock and Beaver
It's often said that 'the best bar is the closest bar' and that certainly rings true for our in-house pub, The Cock and Beaver. Having just faced our vertical drop ride; Drop Dead and with your heart still pumping, why not collapse into a well-cushioned chair and sample some of our themed cocktails? This could be the spell-binding Hex on the Beach or dangerously delicious Ripper's Revenge. Mocktails and soft drinks are also available for anyone with "responsibilities" (boring) or if you're under-18 (illegal).
2. Limin' Beach Bar
Once your legs stop feeling like jelly and you can face the outside world again, it's just a short walk down the southbank for a slice of the Caribbean. The Limin' Beach Bar is the place to go when you want to feel sand underfoot and a song in your heart.. Yeah, that… and when only a rocking rum cocktail will help you forget the terrible deeds of the day.
But I'm not listing all their drinks, so stop being lazy and check out their menu for yourselves: Drinks Menu — Limin' Beach Club
3. The Understudy Bar
We get a lot of literary, sophisticated types visit us here at the London Dungeon… NOT! You're all vagabonds, traitors and thieves! Nevertheless, if you fancy pretending that you're a person of culture then The Understudy Bar at the National Theatre is open for your business and just a 5 minute walk down the Southbank. Mill around with a nice craft beer, nod enthusiastically when someone asks if you've been to the London Dungeon and walk the other way if the torturer comes in – you wouldn't want to embarrass yourself… again!
4. The Refinery Bankside
Oooo very fancy! Everything a recently traumatised person could ask for in a bar and more! Comfy lounge chairs, instagramable drinks and even mixology classes if you never want to leave the house again. It's so nice that rogues like you are in danger of not been let in.. You did come straight from the Victorian Plague Pits to be fair! Think you've got what it takes, then go to their website to view.
5. Cubana
Two words. Happy. Hour. And boy is it happy. Juicy cocktails and live Cuban music make this place one of the most vibrant bars in London. They've even got a new rooftop terrace if you fancy seeing the sky after being locked down in our Dungeon. It's the perfect escape for when our resident torturer has a particularly loud "guest" to stay. If this sounds like it's for you then go here.
So there you have it. Our top 5 drinking recommendations on the Southbank. What are you waiting for? Hurry up and get drinking you scoundrel!