Protect your Crown Jewels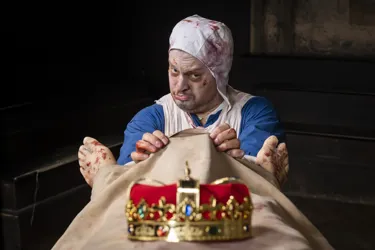 In honour of King Charles III's Coronation, the London Dungeon and sexual health charity Brook partnered for another year to ensure access to sexual health advice so people can protect their own 'crown jewels'.
The London Dungeon and Brook have been working closely over three years to help de-stigmatise the topics of sexual health and STIs, using history and humour to encourage people to practice safe sex and have regular checks whilst getting access to essential information.
Over the Coronation bank holiday weekend, the partnership saw the London Dungeon distribute free condoms and information to all guests who visited the attraction, encouraging the UK public to 'protect their crown jewels' and take part in regular testing and checks.
They also produced educational videos, playing on innuendo and carefully placed crown jewel props, to encourage people to get regularly tested and check their private parts for signs of STIs, as well as how to care for their royal 'staff' properly and how often they should 'polish' their jewels.
Watch the videos on the London Dungeon Instagram page below.
WATCH NOW
A London Dungeon spokesperson said: "It isn't only the royals who need to keep a close eye on their crown jewels! This Coronation take inspiration from our King and make sure you take a closer look at your collection and ensure it's polished and in full working order ahead of the celebrations. Access to health care, protection and testing is incredibly easy now, unlike the days of the Victorians - so don't go back to the dark ages when it comes to your sexual health, and get tested this bank holiday."
Rebecca Shutt, Head of Education at Brook, said: "Shame and stigma are major barriers that prevent people from taking control of their sexual health. We've been partnering with the London Dungeon for over three years now, helping destigmatise the discussion of sexual health and STIs using history and humour and this year, to coincide with the Coronation, we wanted to use a common colloquialism to encourage people to enjoy safer sex. It's fantastic that visitors to the London Dungeon will have access to free condoms during the Coronation Bank holiday weekend and we want to remind everyone that STI tests are quick, simple, and available for free from your local sexual health service."