England Rugby x The London Dungeon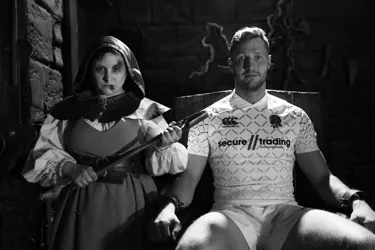 LONDON DUNGEON COLLABORATION ENSURES PLAYERS 'GET IT FRIGHT' DURING HSBC LONDON SEVENS EVENT
1 April 2019, Twickenham: Building on this year's London theme, organisers of the HSBC London Sevens rugby tournament at Twickenham Stadium next month (25-26 May 2019) have announced a collaboration with renowned London attraction, The London Dungeon. A replica of the infamous torture chamber in London's darkest attraction has been installed within a dungeon-style sin bin at Twickenham Stadium, where players will be sent to on receipt of a yellow card.
A video revealing The London Dungeon sin bin can be viewed here (embed code below). Imagery can also be downloaded using this link.
Taking the London theme of the HSBC London Sevens event to the ultimate extreme, players who fall foul of the rugby sevens rules will find themselves locked in the torture chamber style sin bin. The resident torturer will make the players feel right at home as they are led to the torture chair or, her personal favourite, the cage, for a full two minutes of the 14-minute game.
England Sevens players put the new sin bin facility to the test in a recent training match, with Richard de Carpentier, Ryan Olowofela and Will Edwards all taking a turn in the new-look London Dungeon sin bin as a result of their on-pitch antics.
Speaking of his experience in the new facility, Richard de Carpentier said: "The London Dungeon sin bin takes the term 'foul play' to a whole new level. Being sent there during the HSBC London Sevens is going to be a torturous experience for both player and team. This is really going to test the players – there won't be any get out of 'cage' free cards this time around."
The exclusive London Dungeon sin bin will be in action throughout the entirety of the HSBC London Sevens event in May, during which spectators can witness 45, electric and fast-paced rugby matches across two full days. Between games, fans can enjoy a huge range of additional entertainment and family-friendly activities including a funfair, a street food market and live music.  
Andrew Walker, General Manager at The London Dungeon, said: "The England rugby sevens team are known for their ferocious game play but, if they choose to play dirty, they will find a real match in the London Dungeon's resident torturer. With 45 years of practice in London's darkest attraction, five trusty tools and two cages, the players will receive a once in a lifetime sin bin experience that they'll never forget.'
For more information about the HSBC London Sevens tournament, visit: https://www.englandrugby.com/tickets.
For more information and to book tickets for The London Dungeon, visit: www.thelondondungeon.com