The London Dungeon celebrates 10 years on the South Bank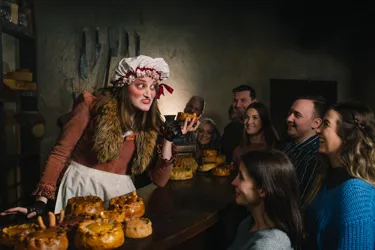 The London Dungeon is infamous for bringing the city's deepest and darkest history to life – and this Easter celebrates 10 years of being based on the South Bank. To mark the milestone, we've compiled weird and wonderful facts, figures and rumours to tell the tale of the Dungeon's own history.
Ghostly Goings On
Alongside the scream-inducing shows and thrilling rides the attraction is known for, there are also little-known unexplained events reported by guests and team members alike. Staff members have long said that County Hall, the building that houses the attraction, is haunted with reports of taps turning on and off by themselves, whispering voices heard in empty rooms, wailing women who can't be seen on CCTV and floating silhouettes spotted in the corridors.
A spokesperson for the London Dungeon said, "One story involved a woman who was spotted in the corridor crying as she'd lost her child. After an hour of searching, both the child and mother were nowhere to be found. The team checked CCTV and discovered no such woman or child was, or had been, in the attraction that evening. It was chilling!"
Celebrity Sightings
The London Dungeon has seen more than just famous faces from the past – with its haunted halls previously stalked by celebrities such as Nicolas Cage, Millie Bobby Brown and even Tim Burton who have made visiting the attraction part of their trips to the capital.
The attraction's actors have also gone on to achieve greatness, with shows previously performed by familiar faces such as Matt Berry and Karen Gillan. And if you pay close attention, you might just hear the old echoes of Liam Payne's secret concert held in the depths of the Dungeon!
The London Dungeon in numbers over the past 10 years:
The Dungeon has seen three proposals by super fans in its creepy corridors
Mrs Lovett, Sweeny Todd's accomplice and business partner, as well as purveyor of suspicious (human) meat pies, has served up more than half a million pies to customers
The Courtroom show, one of the London Dungeon's longest running shows, has seen more than 875,000 people 'sentenced' in its chambers by London's maddest and baddest judge
A leaving party was thrown in the attraction for former Prime Minister Theresa May when she left office, giving guests the opportunity to run through fields of wheat in commiseration or celebration depending on their political leanings
The London Dungeon is the UK's first and only Escape Room experience with a ride at the end. Book your visit to the Guy Fawkes themed Escape room at https://thedungeons.com/london/tickets-prices/ways-to-visit/escape-room/
A London Dungeon spokesperson said: "We have always worked to put a spotlight on London's darkest history, both educating and entertaining guests whilst they visit. But this year, as we mark 10 years since we moved to the South Bank, we wanted to celebrate our very own history, bringing to light the weird and wonderful things our walls have seen. We cannot wait for the next 10 years and see our guests continue to be a part of our unique history."
For all thrills and scare seekers out there, the London Dungeon offers 16 terrifying shows and thrilling rides bringing the city's deepest and darkest history to life, delivering ample scream-drenched stories and fear-inducing shocks for an experience that guests will never forget. From Jack the Ripper and Sweeney Todd to Witch executions and courtrooms, the London Dungeon has it all to put the most daring of guests to the ultimate test.
BOOK NOW