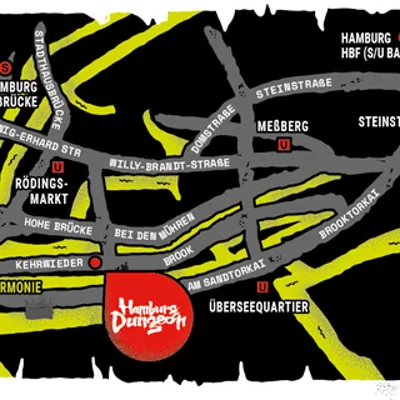 WE'RE EASY TO FIND - JUST FOLLOW THE SMELL
The Hamburg Dungeon is situated in the heart of Hamburg, in the middle of the famous "Hamburger Speicherstadt", near the Hamburg harbor.
Address:
Kehrwieder 2
20457 Hamburg
Once you are in Hamburg we are an easy walk from all the main attractions: Rathaus, Michel, Elbphilharmonie, Landungsbrücken. If you are on a day out in Hamburg, you'll be near The Dungeon.
We are only a few minutes walk away from the S-Bahn station Stadthausbrücke or the U-Bahn stations Baumwall or Überseequartier.
Or you can take the bus number 6 to 'auf dem Sande' or bus 111 to Überseequartier! You can find more travel information in English on the HVV website.
Parking is very limited and not free of charge.
Address:
Kehrwieder 2
20457 Hamburg