MARY QUEEN OF SCOTS - THE CURSED CROWN NOW OPEN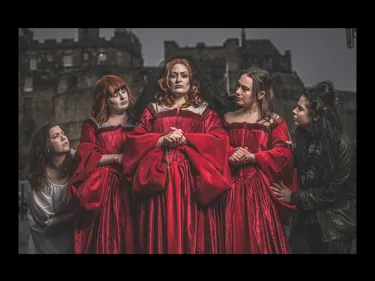 A dramatic transformation awaits 15 actors who will all play Mary Queen of Scots in a brand new show dedicated to the doomed Scottish queen at The Edinburgh Dungeon -opening on 26th January 2019. 
The award-winning underground attraction employs a troupe of around 40 professional actors. Now, all 15 of the Dungeon's female actors will take it, in turn, to play the lead in Mary Queen of Scots: The Cursed Crown.
There are four tours an hour at the city centre attraction, which means Mary's tale will be told no less than 32 times each day. The Dungeon team has rated the show with a "scary score" of five skulls, which warns visitors it is not for the faint-hearted.
Mary was imprisoned for 19 years before being executed for treason in 1587. As cinema-goers around the country flock to a new film based on her life, this new Dungeon show allows fans to get up-close-and-terrified with Mary's story.
Set in Loch Leven Castle, one of many places Mary was imprisoned, audiences will discover how she was a pawn at the mercy of Machiavellian plots hatched by her closest aides, including third husband, Lord Bothwell.
Bothwell is said to have conspired in the brutal slaying of Mary's second husband, Lord Darnley.
The Cursed Crown ends with Mary being beheaded after colluding in an assassination attempt on her cousin, Queen Elizabeth. Even in death, she was to suffer, with the executioner's axe initially failing to make a clean cut.
After a second blow and some vigorous sinew-sawing, Mary's head was finally chopped off. Her restless ghost, trapped for all eternity in Loch Leven Castle, is now ready to scare our Dungeon visitors…
 The Cursed Crown will be part of the Dungeon's 70-minute long tour, which features 11 live actors shows.
 Lyndsay Hebert, Performance Manager at The Edinburgh Dungeon explained:
 "Mary Queen of Scots: The Cursed Crown is the result of three months of historical research, costume and set design and scripting. As with every show at The Dungeon, we like to look in-depth at a chapter of Scottish history and put our own angle on it. Our actors have been rehearsing the script over the festive break, learning about Mary's relationships with those who sought to dominate and manipulate her, making her a pawn in their own race to secure her crown and rule. We are excited to bring her story to life in our unique, scary fun Dungeon way."