BURKE & HARE: THE BUSINESS OF MURDER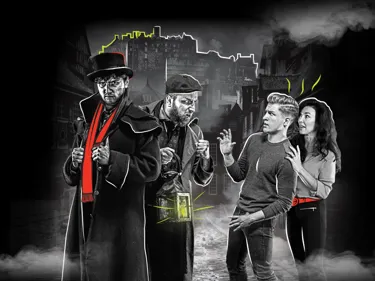 Edinburgh's most notorious serial killers are being brought back to life in a bloody new Burke & Hare experience at The Edinburgh Dungeon.
Burke & Hare: The Business of Murder at The Edinburgh Dungeon is our retelling of the capital's first serial murder spree.
Burke & Hare: The Business of Murder* is a horrible new experience immersing visitors in late Georgian Edinburgh as they uncover the deadly deeds of the city's most notorious serial killers. You'll learn about Burke & Hare's shady place in the bloody history of medical research in 19th century Edinburgh's world-renowned anatomy schools. You'll also get a crash course in the finer technique of "Burking"– a term originally coined after William Burke's particular method of dispatching victims.
You'll enjoy the sights, sounds and smells of Edinburgh's leading anatomy schools, get squeamish over squelchy bits and dodge dastardly leeches as you find out the gruesome truth behind the city's underground body trade and the fate of Burke & Hare. Will you encounter the duo in the darkest of corners of the Dungeon – with the slimmest of chances of escape? Will you ever make it out?
It's the 1820s and Edinburgh is a pioneering centre of medical research and discovery, as doctors and surgeons from all over the world flock to the city to attend lectures and observe dissections in its anatomy schools. The demand for dead bodies to dissect is insatiable. Only those of criminals condemned to death by law can be used for dissection, but lecture theatres are heaving and teaching dissections increasing. There simply aren't enough legally-obtained corpses to go around! Grave-robbing is spreading like wildfire, but even this isn't satisfying the demand…
Enter Mr William Burke and Mr William Hare. They've spotted a wily business opportunity, in the form of… murder! And at 7 pounds and 10 shillings a body, it's a lucrative business to be in!
Over the course of 1828 this murderous duo "burked" 16 victims at their lodging house in Tanner's Close, a deadly efficient means of murder which left no trace on the body. The perfect crime, until they got sloppy and eventually caught. It was the end of their scandalous careers, but the beginning of their incredible rise to notoriety in the annals of Edinburgh's criminal history.
*Burke & Hare: The Business of Murder is a new feature that is part of the overall Dungeon tour.