20 YEARS OF FEARS AT THE EDINBURGH DUNGEON
Tuesday 21st January 2020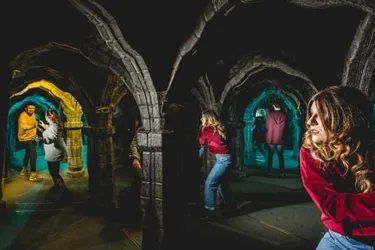 We survived the 'naughty noughties' and terrified throughout the 'tens' and now, at the start of the roaring twenties, The Edinburgh Dungeon is celebrating 20 years of fears in the heart of the capital!!
Over the past two decades, over 3 million visitors have braved the Dungeon, coming face to face with notorious Scottish characters from over a thousand years of history; from Mary Queen of Scots and William Wallace to Deacon Brodie, Burke & Hare, witch Agnes Finnie and cannibal Sawney Bean as well as plague doctors, foul clengers and even ghostly apparitions!
Between 2000 and 2020, all you peasants have "dropped" over 280,000 times to your doom on the Grassmarket Gallows drop ride, with an impressive 198,000 terrified mug shots being snapped for posterity by the attraction's photo team. Keep sharing 'em!
Your favourite 17th century 'Judge Mental', has passed a total 141,420 judgements to date (all of you are VERY GUILTY) – with each Dungeon show being performed on average 28 times a day since doors opened!
With a cast of 30 professional actors performing every role in the tour, there's never a shortage of make-up supplies and costumes to maintain behind the scenes. Over of 120,000 mls of blood make-up, 2,100 bottles of dry shampoo and even 480 tubes of eyelash glue (to make the Dungeon's signature boils and pustules!) have passed through the backstage changing rooms over the past 20 years!
The Dungeon is not all about gore, guts and giggles however, there's also a softer side to the scary fun. As part of tour charity outreach, under parent company Merlin Entertainments' charitable trust Merlin's Magic Wand (MMW), over 850 MMW tickets have been donated to children in our local Edinburgh community to enable them to experience a magical day out. We also created the first 'Magic Space' in Scotland working with MMW at Rowanfield School – a multi-agency school for primary aged children with severe and complex social, emotional and behavioural needs.
2020 will see the launch of a new walking tour product in February, two new seasonal shows, the return of the sell-out adults-only Dungeon Lates and many more screams and surprises! We want you to send us any snaps, memories or video content from their visits over the past 20 years via social media (Facebook  or Instagram)
THANKS FOR ALL YOUR SUPPORT MINGERS! HERE'S TO 20 MORE SCREAMING YEARS!