New Rapid Witch Test Launched By The Edinburgh Dungeon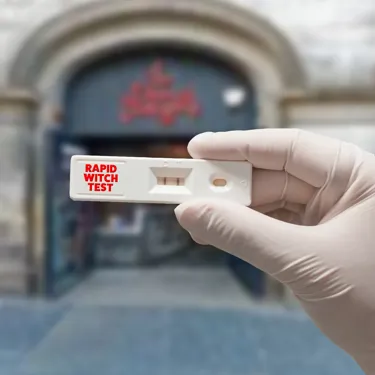 Witches better beware as a new rapid witch test has been launched by the Edinburgh Dungeon
The Dungeons today (April 1) announce the launch of their new Rapid Witch Tests to ensure the safety of all guests and teams at their attractions. As preparations get underway to reopen The Dungeons in London, Blackpool, Edinburgh and York in mid-May, it has been decided that before entering every guest will have to undergo the rapid test to prove they are not a witch.
"There are good witches and bad witches and in the 1600s they thought it was a lot easier to identify them," explains Kathryn Angel, General Manager at The Edinburgh Dungeon. "We just want to ensure we know who is coming into our attractions – and whether we have bad witches in our midst."
All guests who show a negative result will be allowed to enter the attractions to live and breathe the darkest times from history, and we don't mean 2020.
In London, there is the eerie Torture Chamber and the unnerving streets of Whitechapel where Jack the Ripper could be lurking while Edinburgh includes the Anatomy Theatre of Dr Knox.
Edinburgh, York and Blackpool also boast their own witches shows – a testament to just what happened to witches hundreds of years ago.
Those guests who return a positive result… well their fate is sealed and will be dealt with by The Dungeon Master down in the depths of The Dungeons.
"We have plenty of COVID-safety precautions in place to welcome back guests, including social distancing measures, hand-sanitiser stations and temperature checks at the entrance," explains Kathryn Angel, General Manager at The Edinburgh Dungeon. "But it's those sneaky witches we need to be on the look out for now."
Thrill-seekers brave enough to venture into the depths of The Dungeons can book tickets now for reopening… if you dare!