MARY'S BUCKET LIST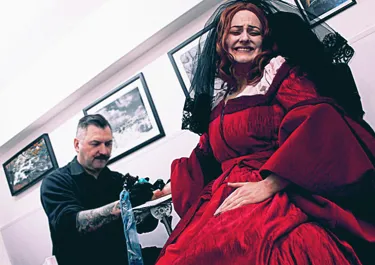 Mary Queen of Scots tucking into a Greggs' vegan sausage roll and paying a visit to a tattoo parlour… not quite how you imagine one of the most famous royals in history, but just some of the things you might like to see the legendary monarch do before she gets the chop.
Scottish actor and comedian Karen Dunbar, who has a cameo role in a blockbuster movie, 'Mary Queen of Scots,' is launching The Edinburgh Dungeon's search for the top ten 'Mary's bucket list' suggestions.
The popular city-centre attraction recently added a new Mary experience called 'The Cursed Crown' to their 70-minute long tour of terrifying tales from Scotland's bloody past.
One critic said of the new Dungeon character "Let's just say there IS a scarier Lady In Red than Chris De Burgh's version." As with all Dungeon shows a full roster of professional actors will be taking turns playing the Mary character, in this case, all 15 women members of the Dungeon performance team – the show is performed 30 times in a day during regular opening hours.
In the movie, Karen, currently touring the UK in the stage production of Gary Barlow and Tim Firth's 'Calendar Girls: The Musical,' plays a commoner in the congregation of John Knox's St Giles' Cathedral.  As the mean-spirited minister, played by David Tennant, casts doubt on the Queen's moral character, Dunbar's peasant character yells: "Death to the hoor!"  The crowd – urged on by Dunbar – duly bays for Mary's blood.
In a short online film, Dunbar tells viewers: "Since her death is imminent, we need you to come up with a Mary bucket list. We're looking for the top ten things Mary would like to do before she's deed!"  Social media users are being asked to submit their ideas via The Edinburgh Dungeon's Facebook (@EdinburghDungeon), Twitter (@EdinDungeon) and Instagram (@EdinburghDungeon).  The best suggestion will win a free tour for two around The Edinburgh Dungeon.  Bucketeers are being asked to use the hashtag #MaryBucket