EVENTS
Walking Tour + Edinburgh Dungeon
Experience the ultimate overground and underground journey through Edinburgh's darkest history.
17-30th October
10:30, 12:00, 13:30, 15:00
£29.95 Adult, £25.95 Child (Includes entry to Edinburgh Dungeon)
Meet The Black Jester At Holyrood Palace To Start Your Journey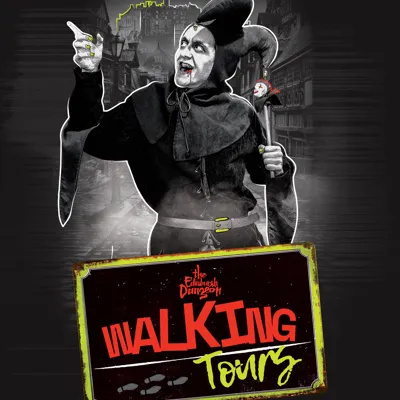 Horrible sites..
Are you ready to be taken on the ultimate Edinburgh Dungeon experience? Then make sure you book our brand-new combination tickets to experience the ultimate overground walking tour and underground Dungeon tour... it's a double dose of the Dungeon!

Your journey into the cities dark past starts at Holyrood Palace, approximately 1km away from the Dungeon itself, where you'll meet our very own Black Jester to begin your walking tour around the city. This is the first time you'll select when booking your tickets so please ensure you head here first.

The Black Jester will lead you around some of the city's most notorious sites where you'll discover the hidden secrets of Edinburgh's shady past. Listen to him regale tales of tragedy, plague, horror and mischief as you take in the spectacular sights of the city including Holyrood palace, St Giles Cathedral and Edinburgh Castle….it's all the good stuff that we couldn't pack into Edinburgh Dungeon!

Don't forget to book your Dungeon tour time too as if you...we mean when you return from your walking tour your journey will continue down into the Dungeon itself where you'll navigate your way through 1000's of years of murky Scottish history. With live actors, immersive theatrical sets, spectacular special effects and a thrilling underground ride, not forgetting jumps and screams around every corner, there will be lots of underground scary fun for all! 

Get ready to laugh, learn and jump as you experience the ultimate underground and overground Edinburgh Dungeon experience.