This event has now ended.
Gift Cards from £13.96 per adult
Give the gift of an Edinburgh Dungeon experience this Black Friday with 30% off!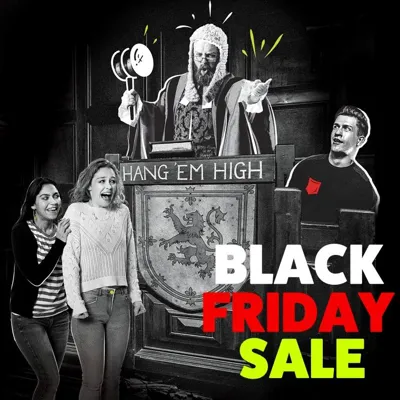 Black Friday Sale
Did somebody say BLACK FRIDAY?
Not that you deserve it, but (un) luckily for you we're in a good mood so we have a horrifyingly good offer you'd be silly to miss!
As black is our favourite colour (what can we say bright colours just aren't our 'thing') we've decided to get involved and give you traitors the chance to save yourself a massive 30% off our gift cards, now whether you dare to delve deep down into the dungeon is another matter!
You'll be able to get your little mitts on these hugely reduced gift cards from Friday 25th November until Monday 28th November. Dungeon date anyone?
There's just one little catch, you're going to have to be quick as our 'kindness' never lasts for long, don't say we didn't warn you!
Gift cards will only be available to purchase via Edinburgh Dungeons website, with a limited amount available for sale, so if you're tight …we mean if you're a bargain hunter act fast and buy now!
Terms & Conditions
30% off our full priced gift cards. Offer only valid for sale during Black Friday weekend event, from 25.11.2022 until 28.11.2022. Please note your gift voucher is a flexible, open-dated entry voucher and is valid for one standard visit within 12 months of purchase, excluding Christmas day. The voucher can be used to reserve any date that the attraction is open using a unique code provided on the voucher. Early reservation is advised for popular dates such as weekends and school holidays. Please note vouchers are non-refundable once booked.