Horrible sites..
Are you ready to pound the pavements, taking in Edinburgh's most (in)famous sights? Then make sure you book our brand-new hour long family-friendly overground walking tour!
Tours run Saturday & Sunday at 13:30 & 15:00
Meet The Dungeon Keeper At Holyrood Palace To Start Your Journey
Please note the date and time selected at checkout is for entry to the Edinburgh Dungeon. You must book your Walking Tour visit via your booking confirmation email to guarantee entry on a date and time of your choice. More information on how to book can be found in the FAQs section below.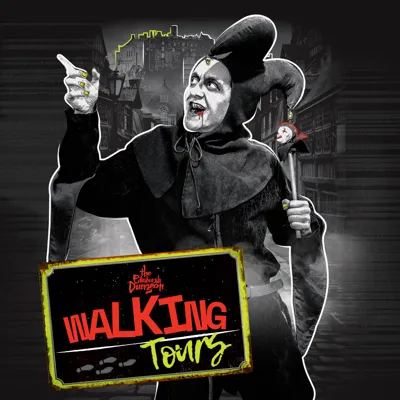 Journey into the city's dark past...
Starting at Holyrood Palace, approximately 1km away from the Dungeon itself, you'll meet our very own Dungeon Keeper to begin your walking tour around the city. 
The Dungeon Keeper will lead you around some of the city's most notorious sites where you'll discover the hidden secrets of Edinburgh's shady past. Listen to him regale tales of tragedy, plague, horror and mischief as you take in the spectacular sights of the city including Holyrood palace, St Giles Cathedral and Edinburgh Castle….it's all the good stuff that we couldn't pack into Edinburgh Dungeon!
Get ready to laugh, learn and jump as you experience the Dungeon Keeper's 'orrible tales of the City!
FAQs
The tour lasts 50 minutes in total. 
Tickets start from £31.95 for an adult (16+) and include a visit to The Edinburgh Dungeon tour. We know, what great value! 
Child (5-15 years old) tickets start from £25.95.
First, select your Dungeon visit date and time during checkout. 
Then, to book your Walking Tour, your booking confirmation email will have a link to book and guarantee your place at the Walking Tour on a date and time of your choice (Available Saturday & Sundays only).
No Rush! Your Walking Tour visit is valid for 90 days from the date you visit the Edinburgh Dungeon
Fancy doing both in one day? Go ahead...if you dare! Just make sure to book your entry times for both visits to guarantee entry.
You get wet. Bring an umbrella, and an extra one for us too, if it's scheduled to rain. 
Well if you're trying to impress the Jester or Smedley, your finest attire with your most expensive fragrance... but we doubt anyone will attempt that. So just something comfortable with appropriate footwear. 
Meet The Dungeon Keeper at Holyrood Palace, approximately 1km away from the Dungeon itself, to start your journey.
The Edinburgh Dungeon of course so you can be chucked into the cells and we can throw away the key... forever. 
Every peasant is welcome, even the little ones - but the walk does last 50 minutes so be sure they can handle it. 
You can book your Dungeon + Walking Tour ticket here.