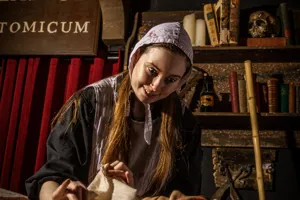 Quickly, there's noBODY in this room...
You will find yourself in the anatomic theatre of Doctor Deyman. In his theatre lies the corpse of Black John, an infamous criminal of his time.
This scene will be immortalised in a painting by the famous painter Rembrandt van Rijn. However, the cleaner, who is there to clean the theater in preparation for Rembrandt's painting-session, discovers something quite shocking.
WHAT YOU'LL LEARN
Which body parts go where.
That it is not clever to not lock the doors.
If you can stomach the smell of rotting organs.
Buy Now
About this show
We are in 1656 (when the skeletons in your closet were alive).
You'll find out whether the corpse Rembrandt painted was really lifeless...