Enjoy a classic sightseeing tour. Designer boutiques, numerous cafes lining the road, and serene surroundings. Feel the vibe of a modern city.
Discover Amsterdam's Attractions by Taking a Walking Tour
Amsterdam, in many ways, is a city of extremes. The Dutch capital is both historic and progressive, elegant yet coarse. From amazing historical sites and quirky museums to nightlife and festival activities that are unmatched by any other European capital, the city certainly enjoys a larger-than-life reputation. It's a good thing the city is not super big. That means, there's plenty to see if you explore the center for one day
While cycling is inseparable from the city's character, the metropolis is compact enough to be explored on foot.
To see the best of what Amsterdam has to offer, here's a sightseeing tour of Amsterdam attractions that focuses on the beauty and history of the city. You'll have no problem making your way to the brown cafes and other top-rated Amsterdam tourist attractions. This Amsterdam walking tour is perfect for first-time visitors and travellers who have yet to discover the city's highlights. Let us take you on a guided walking tour. During this tour, you will visit several attractions, all favourable for the young and old. Will you join us?
Image: City map with different locations?
1. Breakfast at 'De Drie Graefjes'
Known for offering the best breakfast in Europe, De Drie Graefjes is a must-visit. It's the perfect place to start your tour of Amsterdam and leave with all your cravings satisfied. With two lunchrooms, a brasserie, and an American-style bakery, this restaurant has something for everyone - from American pancakes and luscious slices of homemade cake to decadent burgers and egg dishes. And no matter how full you are, don't leave without trying the Hummingbird cake.
2. Amsterdam Dungeon – explore the city's history like nowhere else
Laugh and scream as you journey into Amsterdam's gory past filled with petulant plagues, torture chambers, despicable characters, and tales of scurvy-ridden sailors. It's a 2-minute walk to The Amsterdan Dungeon. Built inside a historical church, the Amsterdam Dungeon offers an exhilarating experience that will thrill and horrify you at the same time. Enjoy Amsterdam's dark past in ten different shows with live actors. The special effects allow you to see, smell, touch and hear everything around you, creating an interactive experience you won't forget. You can visit over and over for a multisensory experience of kitsch, humour, and thrills you'll never tire off.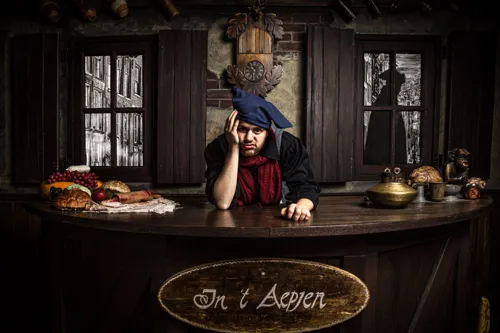 3. Walk to Dam square
Located just 5-minutes from the Amsterdam Dungeon, Dam Square is a great place to relax and soothe your senses after an intoxicating interactive show. The Square was created in the 13th century, making it an ideal starting point for a historical tour of the city. You can enlist an electric boat to take a laid-back cruise of Amsterdam's famous waterways or explore some of the famous Amsterdam attractions that are located right here: you can tour the opulent Royal Palace and peruse art as you take in the Gothic beauty of the New Church.
4. Madame Tussauds Amsterdam – Get face-to-face with the celebrities
Located in the centre of the city on Dam Square, the Museum of Madame Tussauds (the only Madame Tussauds in the Netherlands) offers an exciting journey into the world of celebrity. Get up close and enjoy encounters with famous performers, royalty, and film stars, including the beautiful Doutzen Kroes on the catwalk, Lady Gaga singing on stage, and Princess Beatrix on her throne. The museum also allows you to literally walk inside famous art pieces for an unmatched interactive experience of Van Gogh, Rembrandt, and Piet Mondriaan. Remember to pre-book your ticket online for a guaranteed entry
5. Grachten – Amsterdam's famous canals & 9 Streets
After your encounter with the stars at Madame Tussauds, leave Dam Square and take a leisurely walk for about 5 minutes past the Royal Palace and discover another one of Amsterdam's most famous sights. Known as the "grachtengordel", the main canals of Amsterdam – Singel, Herengracht, Keizersgracht and Prinsengracht – wind their way through the city, providing picturesque scenes at every turn. The area between the four main canals is home to an intimate shopping area known as 'De Negen Straatjes' (The 9 Streets), featuring boutiques, stylish cafes, gift shops and art galleries. Shop your best outfit here!
These canals should not be missed during your visit to the city – they're a pretty memorable sight. Amsterdam is a city whose offerings are best explored by boat, thereby, the Canal cruise Amsterdam should be on your bucket list. Alternatively, take a guided climbing tour of the Westerkerk bell tower in Amsterdam—the city symbol.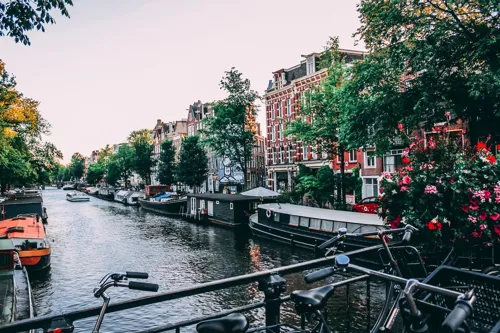 6. The Anne Frank house
Just a few steps North of The 9 Streets on the Prinsengracht, the Anne Frank House gives you a complete story of Anne, the Secret Annex and her diary. For more than two years, Anne and her family hid away in the annexe of the building as the Netherlands found itself under Nazi occupation. And it was in this building that Anne would write her famous diary.
Though the rooms remain empty today, they still breathe the atmosphere of that period and the spirit of a girl who wanted nothing more than to experience what life had to offer. Please buy your tickets well in advance, the waiting times are long and the Anne Frank House is usually sold out!
7. Jordaan
Located right across the Prinsengracht from Anne Frank House, your tour of Amsterdam isn't complete without a shopping and dining spree in the Jordaan. The streets are a paradise for pedestrians offering a charming mixture of designer boutiques, places to eat and drink, and an idyllic view of the City's architecture.
Make sure to visit the markets in Jordaan, especially the Lindengracht Market or the Patch Market. It's the city's favourite food market that was once a canal before it was filled in as part of the modernization process of the 19th century. It's a lovely spot for antiques, souvenirs, and vintage clothing.
8. Have a snack at 'Tweede Egelantiersdwarsstraat'
If you want a taste of slow Dutch living, the Tweede Egelantiersdwarsstraat is a must-visit. It's a uniquely renovated house with a café on the sunny terrace that gives you a great view of the canals as you snack on a sandwich or enjoy a drink. With the various sites around the corner, like Dam Square and the Anne Frank House, it's a great place to stop in the midst of your tour.
9. Haarlemmerstraat
Now, here's the place to go for a real Amsterdam shopping experience. It's not your typical tourist attraction, which means it offers an authentic experience of what it feels like to live and shop in Amsterdam. From nifty little art shops where you can find handmade jewellery, clothes, and sculpture to cosy coffee shops, the Haarlemmerstraat is where you go to experience true Dutch culture. The walk from Haarlemmerstraat to Central Station takes about 10 minutes.
10. Amsterdam central station
What's so special about a train station? The Amsterdam Central Station is a marvel of Dutch architecture and the country's most visited national heritage site, serving over 250,000 visitors every day. It has a palace-like, Gothic façade with numerous ornamental details. The station is reminiscent of medieval cathedrals and is definitely worth a stroll.
11. Amsterdam Noord
Amsterdam Noord, or North Amsterdam, is a bustling new neighbourhood that has been a thriving hub of culture and activity for many years. Many would describe this borough as a village within a city because of its charming little wooden houses and large open spaces that are unique to this part of Amsterdam. Take the free ferry from Amsterdam central to cross the Ij and be in Amsterdam-Noord within a few minutes. Then it's only a 3 minutes' walk to This Is Holland.
12. This Is Holland
Referred to as the ultimate flight experience, 'This is Holland' is one of the many must-sees the Netherlands has to offer. After your walk through the Dutch capital and seeing multiple Amsterdam attractions, This Is Holland is your chance to explore many other Dutch attractions in a whole new perspective! It's a 5D experience designed to make you feel like you're really flying. You'll feel the wind in your hair as you take an interactive journey across the beautiful expanses of the country, crossing dikes and the uniquely flat landscape of the Netherlands and the hard work that brought it to life.
In short, you get to experience all of the Netherlands in just one short flight. But remember to book your time slot on thisisholland.com to experience this fantastic attraction.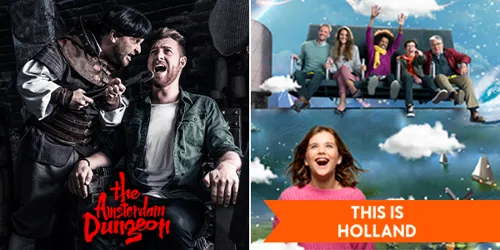 Enjoy many of Amsterdam's attractions in only a day
A walking tour of Amsterdam is an adventure of a lifetime. It allows you to immerse yourself in the history and culture of a modern city. And if you want to enjoy the cities history in an experience unlike any other, The Amsterdam Dungeon is the place to be to explore the rich heritage and experiences of Amsterdam. Guarantee your place by booking your ticket online now.