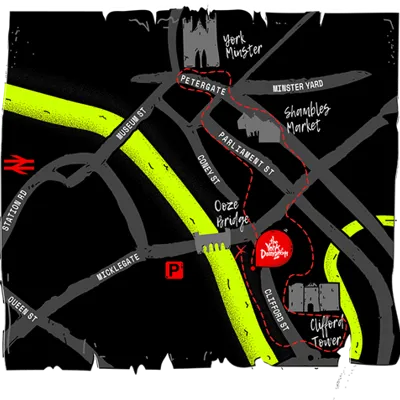 LEARNING WITH REAL LIFE CONTEXT
Explore the history and tales of the streets of York with our actors, as they take you on a 1 hour walking tour of the City of York. Enjoy famous landmarks & scenery as two of our own actors play the quirkiest of guides.
Sights to include:
The River Ouse!
York Castle
Shambles
York Minster
National Curriculum Links:
Pupils should be taught about the Viking and Anglo-Saxon struggle for the Kingdom of England (KS2) – Saxon King Aella and the Blood Eagle
Pupils should be taught about a study of an aspect of theme in British History (KS2) – Torture and Crime & Punishment
Pupils should be taught the development of Church, State and Society in Britain 1509-1745 (KS3) – Religious persecution between Catholics and Protestants.
Boring Bits
Designed for a class of up to 40 students, the city tour lasts one hour and is a great addition to The York Dungeon Tour.
The City Tour booking is an additional £3 per pupil on top of the basic £5.95 for The York Dungeon Tour.
You can book now and pay later by calling our horrible team on 01904 404871.
Alternatively, you can fill out a booking form.
We recommend factoring in a minimum a 2 hour 30 minute visit into your itinerary if including our city tour. If you have a question, please get in touch with the Dungeon team:
City Tours are only available on weekdays during term time and must be made at least 10 working days in advance of your visit date. Please be aware that no lunch room is provided with the City Tour package.