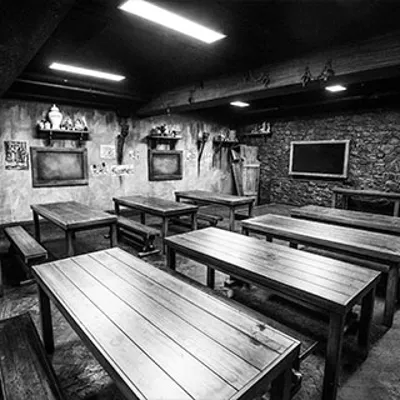 KS3/KS4 Script Writing & Performance Workshop
At the heart of this amazing immersive attraction is script writing, performance and set design. Exclusive to schools, students have the opportunity to step into our creative world and explore show curation.
Pupils will:
Discuss what a script is and why they are used and review from a writer, actor and director perspective. 
Explore the role of context and scene, characters, intended audience, use of tone, volume, mood and action to add impact
In groups, reflecting on what they have learnt, write a script using The Plague as the topic and historic period in time.
Provide a short performance of their scripts in our immersive education space
Designed for a class of up to 34 students, a workshop booking is £2 per pupil plus pupil admission (from £9.95).
THE ITINERARY OPTIONS
11:30 Arrival / Ticket collection Box Office
11:45 Workshop 
12:45 Tour 
13:00 Arrival / Ticket collection Box Office
13:30 Workshop 
14:30 Tour 
We recommend factoring at minimum a 3 hour visit into your itinerary if including one of our workshops. Please note that if your class size is larger than 34 students you will need to consider the admission/exit timings will be staggered across the booking options available. 
If you have a question please get in touch with us by emailing SchoolWorkshops@merlinentertainments.biz
Workshops are only available on weekdays during term time and must be made at least 10 working days in advance of your visit date, any unpaid workshops past 10 working days will be cancelled. Please be aware that once you have entered the attraction students and teachers will not be able to leave and re-enter. The room is not available to be used as a lunch space.