March 24th - May 1st
Secure Tickets now
3 new, exclusive shows
March 24th - May 1st
Secure Tickets now
3 new, exclusive shows
GLAD YOU ARE HERE
The Berlin Dungeon celebrates its 10th anniversary in March! And what would a birthday be without presents?
You can expect new costumes, new sets, new true-crime stories!
The sets of our show rooms will be completely rebuilt including the decoration and effects for 2 months! In each of these rooms you will also find three brand new, horrible characters with their own story.
Like all the other stories in the Berlin Dungeon, these are also based on true events.
So - be curious! But above all: be alert...
ATTENTION: The shows will only be played from 24.03. until 01.05.2023.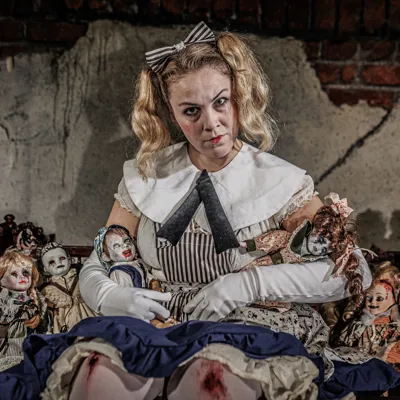 MURDEROUS MOTHER
"Mom woke me up and told me to hold the lantern for her. Sleepy as I was, I helped her. Mom took a knife from the dresser and went into the bedroom.... All I had left were my dolls, my only friends..."
Not the first traumatic experience, as the child is said to have been holding the lantern when the mother slit the father's neck.
Since then, it has been alone. All alone - in the midst of hundreds of dolls. The dolls protect her. The dolls are now her only friends, her only family. She finds comfort with them. With Anna, Bella and Nele. But dolls can't talk. Or can they? Did Nele just wink? Did Bella move?
This "puppet theater" at the Berlin Dungeon is guaranteed not for the faint of heart!
Don't play with their puppets!
The last execution of Berlin!
Watch every move!
CIRCUS OF CRUELTY
Enter and enjoy the spectacle of tonight's performance at the Berlin Dungeon! The ringmaster offers shelter to our creatures: but in return they must regale you with the eerily beautiful history of Berlin! Listen to his instructions, because they can save your life, and we mean that quite literally...
Don't be misled!
Dive into the history of Berlin!
Will you be able to believe his words?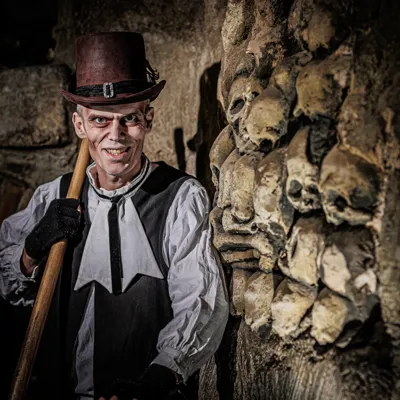 CEMETRY OF THE NAMELESS
Gloomy clouds of mist drift through the Berlin Dungeon, the pungent smell of decay creeps into your nose. Left to your own devices, you search your way through the dark Grunewald and finally find the way to the secret tomb.
In the middle of the Grunewald is a very old cemetery. Bodies were carried from the Havel up to the Havelberg and illegally buried there.
In 1919, 25-year-old Minna Braun was also found poisoned on the banks of the Havel. She was declared dead and buried in the "Cemetery of the Nameless." But suddenly she opened her eyes, she was not dead...
Dead are dead and stay dead...is that really so?
The gravedigger expects you!
A coffin has just become available! Interested?
BRAVE ENOUGH?
THEY ARE ALREADY WAITING FOR YOU!
ATTENTION: The shows will be played only from 24.03. to 01.05.2023.
GET YOUR TICKETS NOW