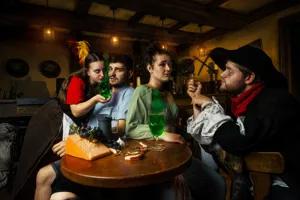 The Last Shot
Welcome to the bar located in the dark dungeons of Amsterdam, where the piano is always playing and where you have a lucky chance to win great prizes by spinning 'the wheel of fortune'...
After left terrified, you finally think you can have a drink in peace. Until you find out that the bar staff has others plans for you. You have the chance to win 'horrific' prizes that you might rather not win...
Are you tempted to take spin at our wheel of misfortune? And who is playing that piano?!
WHAT DO YOU LEARN?
The plans from the bar staff.
Which one of you will be the new bar helper.
Whether this will be your last drink ever...
Book now!
About this show
We're way back in history... A little too far if you ask me.
You learn if you qualify as a good bar helper